艾迈斯欧司朗新型红外LED的矩形4:3照明场可降低成本并提高驾驶监控系统性能
Rectangular beam from new 940nm OSLON Black IR LEDs matches field of view of automotive cameras used for driver and cabin monitoring
The new LEDs enable manufacturers to avoid the need for secondary optics, reducing their designs' cost and complexity
The optimized field of illumination of the new emitters produces improved optical power distribution and homogeneity for better, more reliable IR imaging in the cabin
Premstaetten, Austria and Munich, Germany (16 November 2022) -- ams OSRAM (SIX: AMS), a global leader in optical solutions, today introduced the first members of the OSLON® Black family of infrared (IR) LEDs with a rectangular beam that matches the 4:3 aspect ratio of the wide-angle cameras in cabin monitoring systems.
The new
SFH47278AS A01
produces a 155° x 130° field of illumination (FoI), and the
SFH47267AS A01's
FoI is 135° x 110°. Automotive manufacturers which use the SFH47278AS A01 or SFH47267AS A01 emitters can reduce the complexity and cost of the optical stack in cabin monitoring systems while improving the quality and reliability of the IR images which they capture.
The new 940nm OSLON Black emitters will support safety-critical applications such as driver distraction and drowsiness monitoring, occupancy or child presence detection, and seat belt detection.
Today, cabin monitoring systems are based on illuminators which produce a circular beam. Manufacturers may apply a secondary lens on top of the LED to shape the beam to fit their camera's 4:3 field of view. This adds to the cost and complexity of the entire optical stack.
By contrast, when using the SFH47278AS A01 or SFH47267AS A01 there is no need for the additional lens, making a cabin monitoring system simpler and easier to design and make.
In addition, the OSLON Black IR LEDs' output is more homogeneous than the modified circular beam, with a better optical power distribution across the camera's field of view. This results in better imaging performance, and so more accurate and reliable performance of functions which require detailed image analysis, such as detection of driver distraction.
Firat Sarialtun, senior global marketing manager at ams OSRAM, said: 'The new OSLON Black IR LEDs with rectangular beam provide an application-specific enhancement which delivers increased value and performance for automotive manufacturers. Once again, ams OSRAM optical engineering expertise and application know-how have enabled us to develop two useful new products which exactly meet our customers' need.'
The AEC-Q102 qualified SFH47278AS A01 and SFH47267AS A01 produce a centroid wavelength of 940nm with a maximum pulsed forward current of 5.0A. The new products share the same package and board footprint as the rest of the OSLON Black family, making it easy for customers to migrate designs from LEDs with a circular beam to the new products.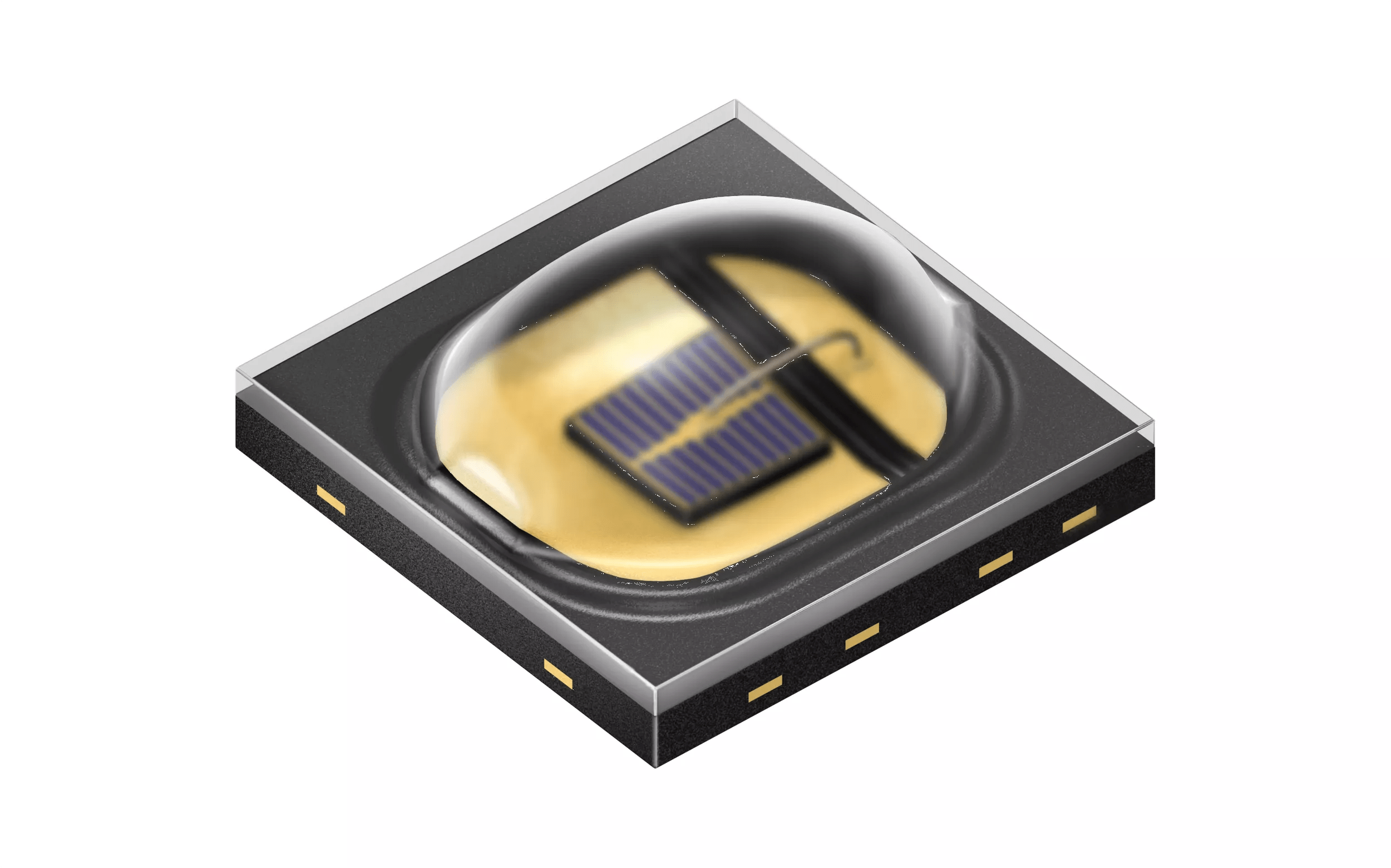 Rectangular 4:3 field of illumination of new ams OSRAM IR LEDs cuts cost and raises performance of cabin monitoring systems
Image: ams OSRAM
Rectangular beam from new 940nm OSLON Black IR LEDs from ams OSRAM matches field of view of automotive cameras used for driver and cabin monitoring
Image: ams OSRAM
For further information
Media Relations
Helena Schauer
Tel.: +498962133158
E-Mail: Helena.Schauer@ams-osram.com
press@ams-osram.com
ams-osram.com
About ams OSRAM
The ams OSRAM Group (SIX: AMS) is a global leader in optical solutions. By adding intelligence to light and passion to innovation, we enrich people's lives. This is what we mean by Sensing is Life.
With over 110 years of combined history, our core is defined by imagination, deep engineering expertise and the ability to provide global industrial capacity in sensor and light technologies. We create exciting innovations that enable our customers in the consumer, automotive, healthcare and industrial sectors maintain their competitive edge and drive innovation that meaningfully improves the quality of life in terms of health, safety and convenience, while reducing impact on the environment.
Our around 23,000 employees worldwide focus on innovation across sensing, illumination and visualization to make journeys safer, medical diagnosis more accurate and daily moments in communication a richer experience. Our work creates technology for breakthrough applications, which is reflected in over 15,000 patents granted and applied. Headquartered in Premstaetten/Graz (Austria) with a co-headquarters in Munich (Germany), the group achieved over EUR 5 billion revenues in 2021 and is listed as ams-OSRAM AG on the SIX Swiss Exchange (ISIN: AT0000A18XM4).
Find out more about us on
https://ams-osram.com
ams is a registered trademark of ams-OSRAM AG. In addition many of our products and services are registered or filed trademarks of ams OSRAM Group. All other company or product names mentioned herein may be trademarks or registered trademarks of their respective owners.
Join ams OSRAM social media channels: >
Twitter
>
LinkedIn
>
Facebook
>
YouTube