Industrial & Security X-ray
ams OSRAM offers innovative sensing solutions for security and industrial X-ray applications that enable high-precision and fast image acquisition, reliability, high-sensitivity, and low power consumption.
X-ray imaging solutions for security and industrial applications
Looking for an industrial X-ray detection solution that combines innovative technology, accuracy, and reliable performance?
X-ray scanning is typically associated with medical examinations, but in fact it plays a vital role in other industries providing security and safety for people. For example, X-ray machines are found at airports to scan luggage, on factory production lines where food and pharmaceuticals are produced, and for non-destructive quality control of critical mechanical components such as essential components for airplane engines. The nature of X-ray radiation allowing to 'look inside' makes it easier for food inspection or security personnel to detect potentially dangerous or harmful objects, and for precise mechanical operations to conduct quality assurance: formerly hidden things become visible.

ams OSRAM offers a wide range of sensing solutions for security and industrial X-ray applications that enable high-precision and fast image acquisition, reliability, high-sensitivity and low noise and power consumption. Highest frame rates and continuous integration without ADC deadtimes avoid any charge loss and best-in-class low-noise operation that allows X-ray imaging at lowest possible doses. This significantly reduces possible stress on exposed materials. The ams OSRAM solution comprises monolithic multi-slice sensors with pixel arrays up to 32x8 pixels and embedded multi-channel analog-to-digital (ADC) converters. Those integrated setups optimize overall bill of materials by eliminating the connection complexity between photodiode pixel array and the ADC, so simplifying the PCB layout. To address designs where more flexibility is required, ams OSRAM also provides high channel count discrete ADC solutions or even special customized integrations. Customers choose our advanced sensing solution for CT and flat panel detectors as well as large scale CMOS sensors for direct or indirect conversions.

Any X-ray scanning application can be complemented by ams OSRAM light projection and 3D-proximity sensing solutions assisting with object localization, user guidance or scan status reporting.
Featured Products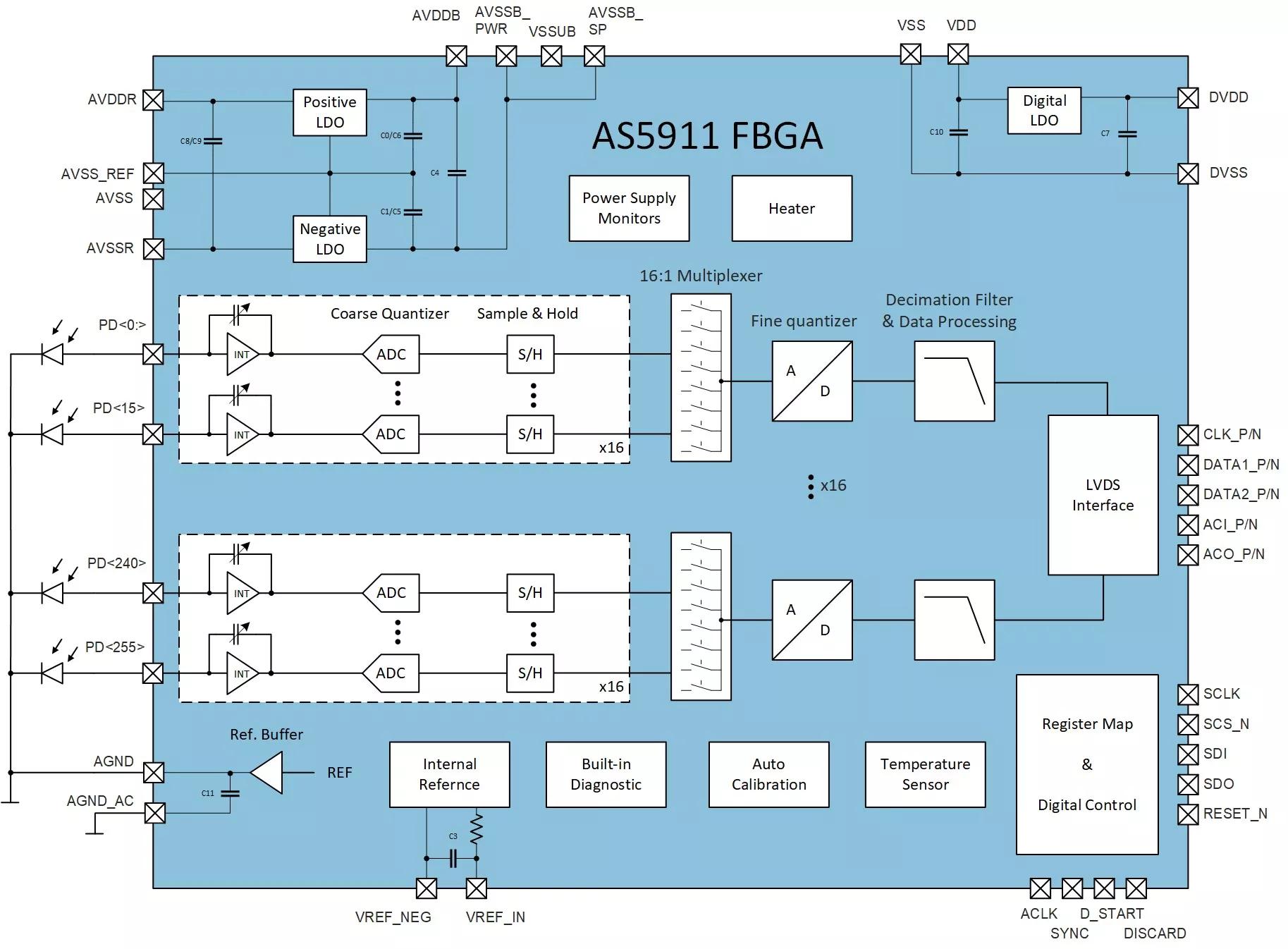 ams AS5911 CT Detector Interface
The AS5911 is an ultra-low noise, 256-channel low power current to digital converter that enables the readout of photodiodes of a CT detector with highest sensitivity. The output currents of 256 photodiodes are converted simultaneously into digital without any dead time resulting in no charge loss on the inputs. The AS5911 combines current-to-voltage integration and A/D conversion for 256-channels in one device. The ADC architecture with its low-noise integrators, coarse quantizer, sample and hold and fine quantizer guarantee lowest input related noise of maximum 0.29 fC (low noise mode) at an input current range of 0.5 μA. The input current range of the ADC is selectable between 0.5 μA and 1 μA.The AS5911 supports two supply concepts: a single analog and true ground supply, in both modes the photodiodes are zero biased for ultra-low dark current of the photodiode. In true ground mode, the AS5911 operates at ±1.5 V dual analog supply while in single supply mode only a single analog supply of +3.0 V is needed. The device detects automatically the chosen supply concept. No external components are required for supply decoupling. To reduce PCB area and simplify the assembly process, decoupling capacitors for supply and reference voltages are integrated in the 14 x 14 mm² FBGA package. The on-chip LDOs, reference voltages and a temperature sensor minimize the external component requirements and reduces the bill of material. The AS5911 features on-chip calibration functions for parameters such as offset voltage, linearity, offset charge and leakage current. This allows to automatically set the photodiode and the front-end at their ideal operating point, compensating for offsets and non-linearities of the signal chain.Full-scale range, integration time and power mode are configurable over a SPI-compatible serial interface as well as the digital output modes of the LVDS interface. In low power mode, the power dissipation can be minimized down to 1.25 mW per channel for reduced self-heating of the CT detector. The adjustable integration time down to 51 µs allow very high frame rates. The operating range of AS5911 is specified from 0°C to 85°C.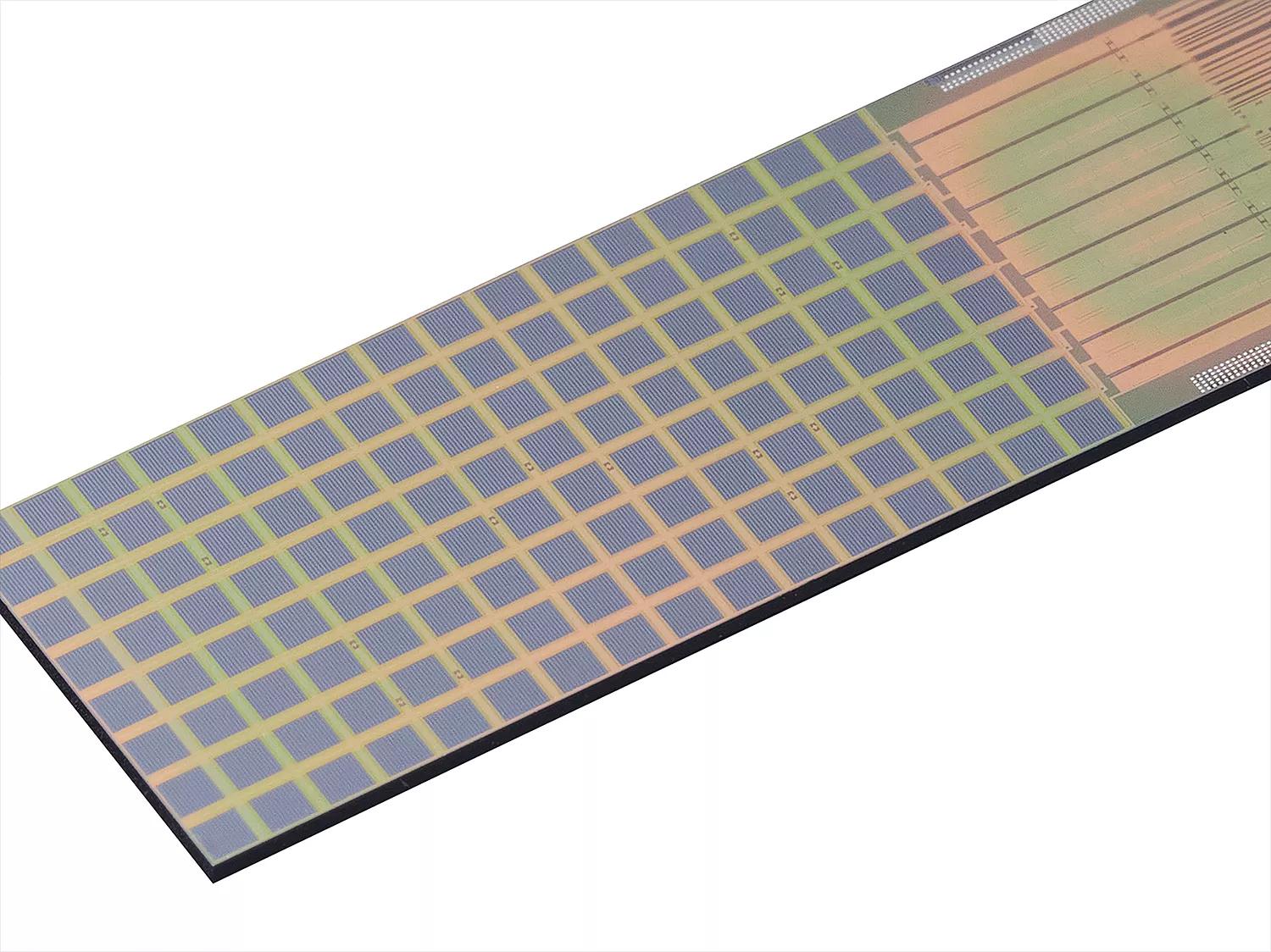 ams AS5951 CT Sensor Chip
The AS5951 is a sensor chip for 32-slice CT detectors that combines the photodiodes and the readout circuit on a single CMOS chip. This sensor solution, which includes an array of photodiodes with ultra-low dark current and a 128-channel ADC side-by-side, allows the assembly of the pixel array on three adjacent edges of the device. Two AS5951 ICs can be placed in Z-direction enabling the design of 32-slice detectors for cost optimized CT machines.The AS5951 has a sensor dimension in Z-direction of 15.615 mm with a pixel dimension of 0.98x0.98 mm² in high resolution mode. In low dose mode two pixels are connected together to a 0.98x1.96 mm², this mode reduces the power consumption, as only half of the ADC channels are active. Pixel dimensions can be customized on request. The sensor can be directly assembled on a substrate using a wire bonding process for manufacturing of a CT module.Improved low dose performance can be achieved because of superior dark current of max. 1pA due to the near zero offset voltage across the photodiode. The input-related noise is very low, in high-resolution mode a typ. noise of 0.21 fC can be reached for an input current range of 200 nA.The max. power dissipation of 128 mW per device in high resolution mode and 67.2 mW in low power mode reduces self-heating effects and lowers the overall cost of cooling the system. An internal reference voltage and bias generator reduces the bill of material. Featuring on-chip photodiodes, the AS5951 offers a cost-optimized solution for 32-slice CT detectors.The digital data readout can be accessed via SPI interface. It is also used to configure parameters such as mode of operation, input current range, selection of reference voltage and enabling the calibration mode. An integrated temperature sensor enables monitoring of the junction temperature.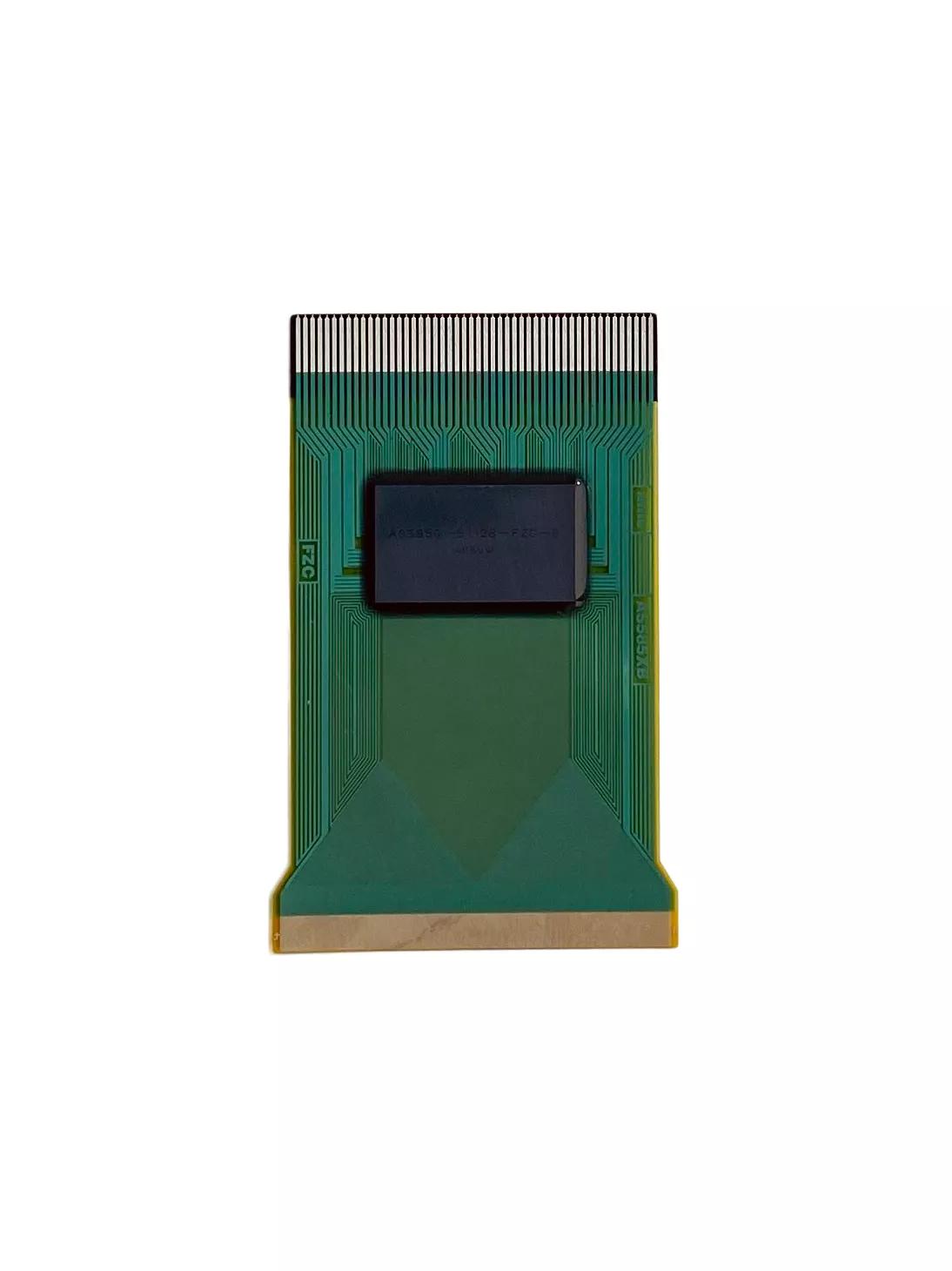 ams AS5850B Digital X-ray Flat Panel Readout IC
The AS5850B is a 16-bit, 256-channel low-noise charge-to-digital converter designed for use in digital X-ray systems. The high degree of programmability enables system performance optimization in a wide range of applications. The combination of fast speed, low noise and low power consumption maximizes the image quality and minimizes patient dose, exposure whilst improving the time to market.Each channel front-end consists of a charge sensitive amplifier (CSA) and a correlated double sampler (CDS), that removes offset and flicker noise from the signal, which is then converted to digital. A fast and reliable LVDS interface transmits the output digital data off-chip. Built-in diagnostic functionalities enable to locate the source of errors in the signal chain from the detector to the data acquisition system. Voltage references and a temperature sensor are included on the chip. An SPI interface allows easy programming of the device parameters.Four different power modes allow the user to minimize the current consumption for the chosen speed. Line times of 20, 28.5, 40 and 80 μs require as little as 3.1, 2.6, 1.6 and 1.1 mW per channel respectively. A special ADC operation mode is also available, that decreases the minimum line time to 15 μs without increasing the power consumption. Additionally, it is possible to add together the charges in pairs of adjacent channels; with this binning, the fastest achievable line time is 10 μs.