Display management
ams OSRAM behind-OLED solutions enables mobile device manufacturers to maximize usable display without compromising on performance. Suitable for new generations of LTPO displays
OLED solutions for light- color and proximity sensing
How can mobile devices maximize usable display without compromising on performance?
The mobile and computing markets continue to follow the industrial-design trend of maximizing screen-to-body ratios. Display size and quality are key buying considerations, as people use their devices throughout the day and in lighting conditions that can challenge the best display management solutions.
ams OSRAM develops and delivers industry-leading sensor solutions that promise excellent image quality and display functionality to meet manufacturer requirements for their bezel-less or small frame designs. Our technology leadership enables accurate ambient light, color, and proximity sensing solutions to operate behind OLED displays used in next generation display technologies such as LTPO Gen 2.0. Our innovative packaging and silicon design mean we deliver sensing solutions that fit in the industry's smallest aperture size behind the display. Our color sensors enable emissive (paper-like) displays by measuring multiple ambient colors to adjust the white balance of the screen– making text and images as appear as if they were on printed paper. In combination with our superior proximity detection solutions to turn the screen on/off when a user brings the phone close to their ear, ams OSRAM offers full suit solutions to overcome even the trickiest of corner cases.
Behind OLED
The mobile handset market will continue to follow the trend to ever higher screen-to-body ratios and ultimately to all-screen, bezel-less smartphones. Technology developed by ams OSRAM will enable accurate ambient light, color and proximity sensing solutions to operate behind OLED displays used in these next generation mobile handsets. The award-winning TCS3701 color and proximity sensor from ams OSRAM enables front-facing ambient light and proximity sensing measurements in smartphones – maximizing edge-to-edge display screen size – with sensor operation under OLED display.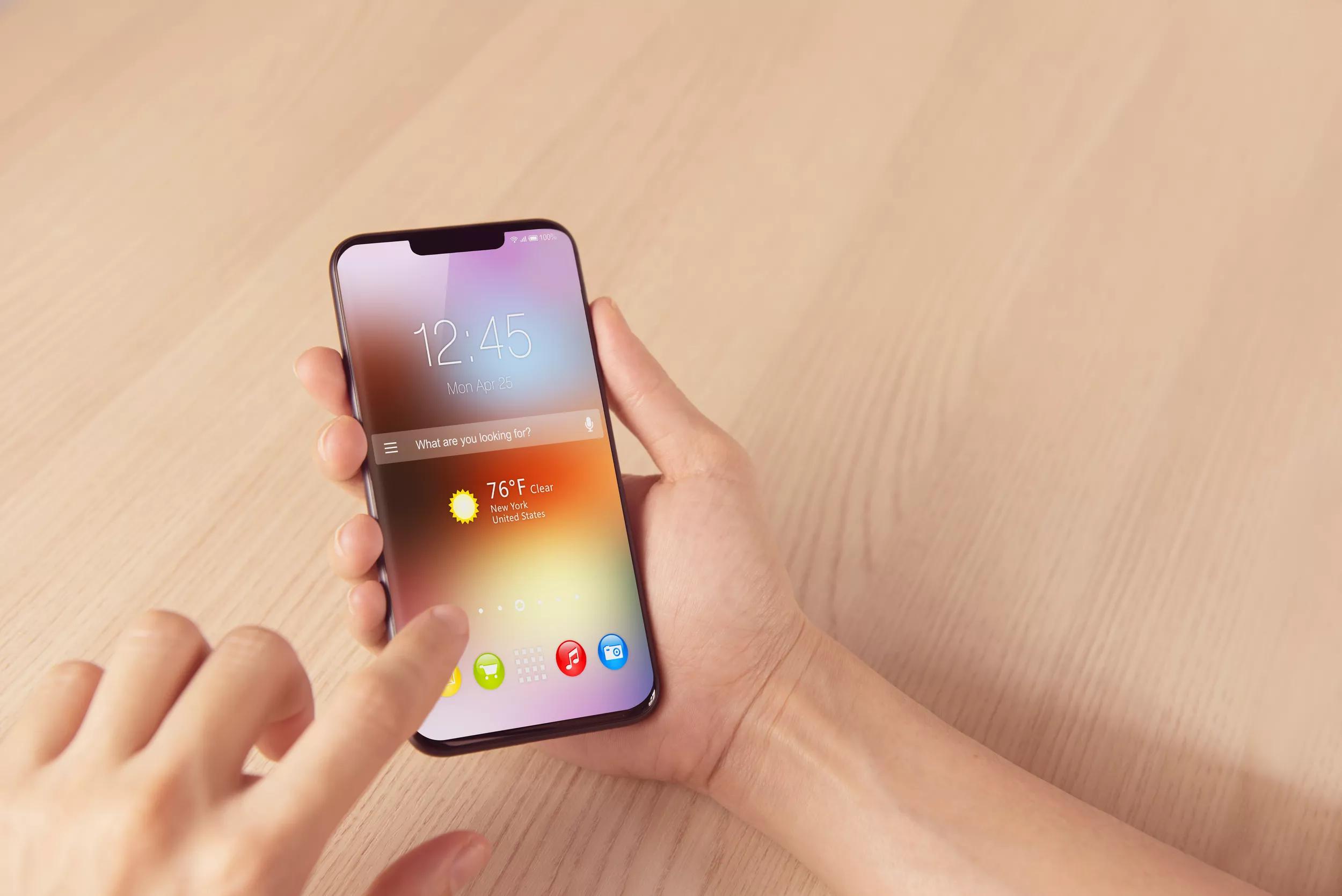 Paper-like displays and small aperture
Paper-like displays
Accurate XYZ color sensors from ams OSRAM enable display controllers to shift the white point of the display in response to changes in the color temperature of ambient light: the effect is to make text as readable on the display as it is when printed in a book.
By shifting the display's white point to a warmer color temperature, in which there is less blue light, the display controller also minimizes eye strain caused by prolonged viewing, and can reduce the risk of sleep disturbance attributable to use of the display.
Small aperture
An infrared proximity sensor in a mobile phone is used to turn on/off the display when the phone is raised to the user's ear for a voice call. Proximity sensors from ams OSRAM operate through a very small aperture: this keeps optical cross-talk to extremely low levels, almost eliminating the risk of false detection events and adhering to difficult corner cases.
The small aperture optical sensing devices from ams OSRAM are based on a refined analog front-end and digital circuitry and innovative package design techniques, producing the lowest possible noise floor.
The same ability to operate through a small aperture is provided by the ams OSRAM ambient light sensing and RGB color sensor products, which support display management functions while enabling new mobile phone designs to benefit from a sleek look with barely visible apertures. The TMD3702VC 3-in-1 color light sensor, proximity sensor and IR VCSEL enables designers to maximize the ratio of display area to body size while retaining front-facing proximity, color and ambient light sensing functions.