Projection
Projection in cars from head-up displays solutions to decorative projections using Micro Lens Arrays (MLA).
Projections in and around the car
Automotive projection applications are an upcoming, rapidly growing segment. Projections in the windscreen (head-up displays), on the street, when the door is open, or on interior surfaces like dashboards, windows or ceiling are an integral part of the future automotive interior. No matter the size or complexity, ams OSRAM's LEDs, lasers and MLAs can make it happen.
Head-up displays/window and logo projection
Head-up displays are seeing a strong growth in the automotive industry. In future, fields of view will further increase while new applications in augmented/mixed reality will require new light sources. But also, static or dynamic projections on surfaces or windows for advertisement find their way into the car. This so-called 'window- and logo-projection' will transform the car interior into an extended surface displaying relevant information or visuals.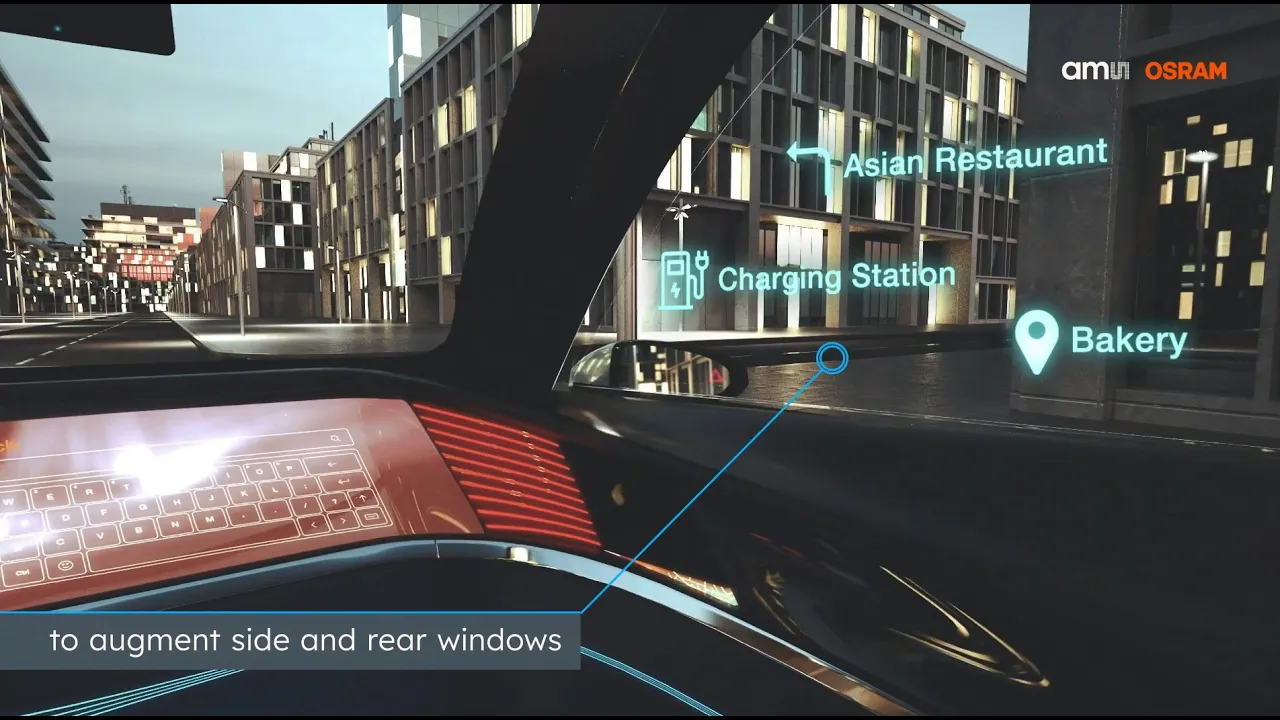 Welcome light carpet
in this exterior decorative lighting application, a static or dynamic projection – for example, the vehicle's brand mark – welcomes the driver as they approach their parked vehicle. The projected pattern remains sharply focused and homogeneous even on an uneven or slightly angled road surface. Another interesting application is pathway lighting. It is projected from under the door sills and can display a pattern distinctive to the model or brand when the vehicle detects the proximity of the key fob. This convenience and safety feature illuminates the road surface where the user will step to enter the car. It can also imbue a sense of personality to the car – the lights 'welcome' the driver on his or her return to the car in the dark. A unique image projected on the ground can also become a signature of the vehicle's brand.
ams OSRAM offering
ams OSRAM offers special LEDs and lasers for HUDs based on LCD or DLP light engines supporting wide field of view as well as augmented reality. OSTAR Projection Compact (for DLP), OSLON Compact or Synios P2720 (for LCD), as well as special laser solutions, are ideal components for automotive HUDs.
Compact micro lens arrays (MLA) can be mounted inside or in the side sills of the car door. As a renowned large-scale mass producer of wafer level optics (WLO), ams OSRAM is the right partner to share its technology innovation and expertise. An MLA-based projected lighting assembly is composed of an LED light source, collimator and the micro-lens array itself. The array is a custom-designed module.

> Watch our on-demand webinar about projected lighting.