Dynamic signaling
Dynamic lighting in turn indicators, dynamic rear center lights, car body or grille illumination revolutionizes the overall visibility and safety while opening the door to a new personalized and premium car experiences.
Dynamic signaling – because light is the new chrome!
Dynamic turn indicators
the latest developments of turn indicators increase safety by enhancing overall visibility with light structures that are in motion. So-called dynamic turn indicators are becoming the new standard as they ensure optimal safety through highly visible and awareness-capturing signaling, so preventing potentially dangerous traffic situations.
Signal projection
turn indicators, door open warnings, back-up guidelines, pixelated animations projected on the street around the car. A new world of signaling applications is developing on the market while legislation opens the door step-by-step for those applications.
Micro lens array (MLA) projection technology from ams OSRAM enables automotive manufacturers to implement compact, small-footprint projection lighting which can cast bright and crisp images on to flat surfaces. Featuring inherently extended focal lengths, MLA projected lighting devices can cast images on a variety of surfaces and over long focal distances, making them ideal for both exterior body lighting and interior lighting. As a renowned large-scale mass producer of wafer level optics (WLO), ams OSRAM is the right partner to share its technology innovation and know-how in this new market segment. This can be vertically integrated with our own optical MLA design and production capabilities. This application shares many of the advantages of MLA technology, including sharpness of image on uneven/slightly angled surfaces.

> Watch our on-demand webinar about projected lighting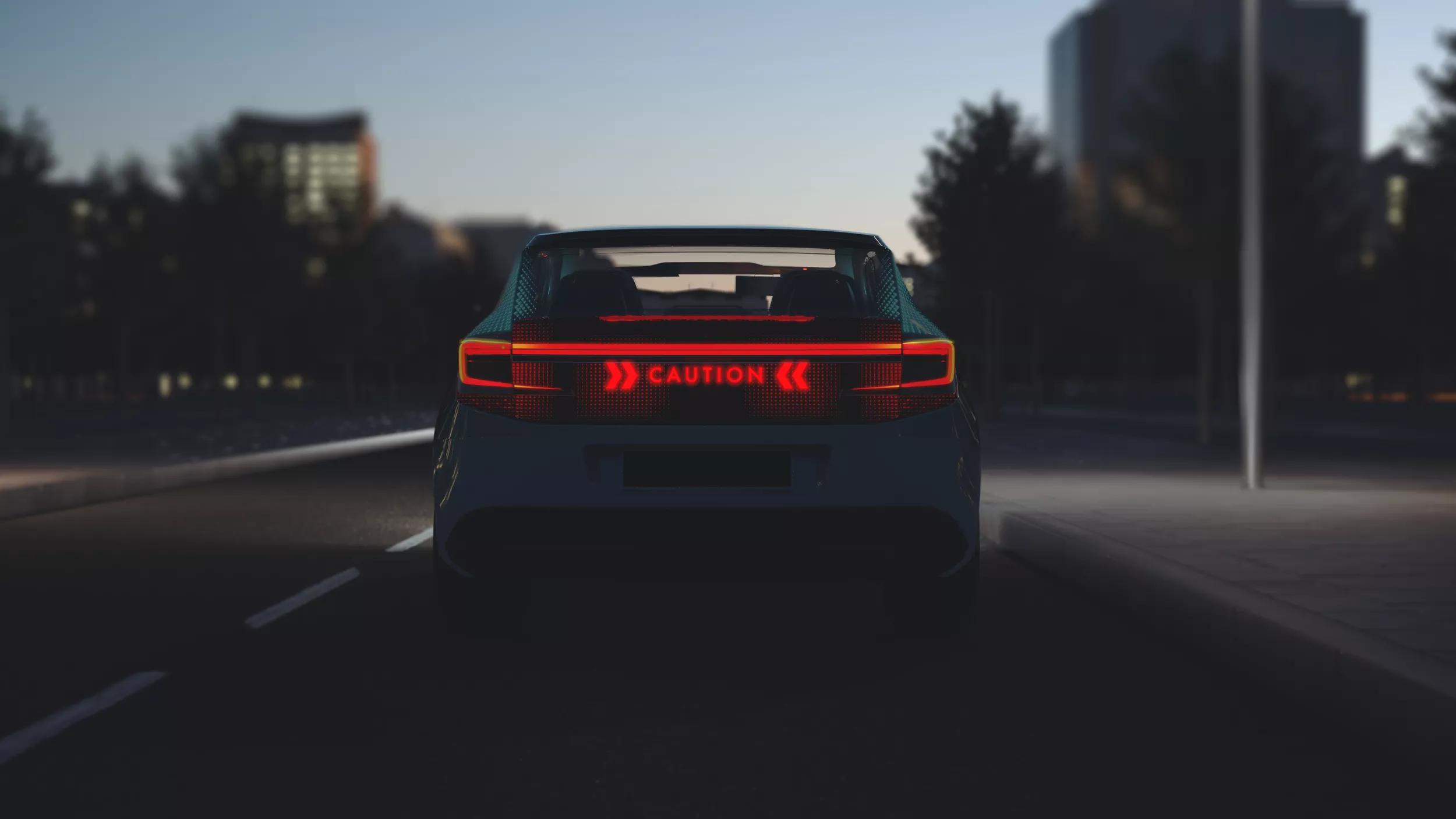 Body/rear/grille lighting
Automotive exterior will go way beyond simple illumination. To fulfil the requirements of higher levels of autonomous driving, innovative solutions are needed that significantly enhance safety in road traffic. Car2x communication is a crucial cornerstone to meet this ambition. Via visual displays like area messages and symbols can be personalized and transmitted more clearly, so enabling efficient communication between road participants and vehicles. Pixilation for this purpose can be witnessed, for example in rear combination lights (RCL) and center high-mounted stop lights (CHMSL), but light is also finding its way directly integrated into the body shell outside of luminaires, or license plates. Electrification of vehicles even opens a way to use illuminated grilles as a new design and signaling element.
ams OSRAM offering
No matter if the customers' innovative dynamic signaling solutions include pixel, point, area, or light guide designs – LEDs by ams OSRAM are the perfect choice when it comes to guaranteeing unlimited freedom of design, allowing customers to combine up to four different light functions in a single light source. Our solutions meet all relevant norms and standards while being simple and cost effective. A wide range of products are available for this area of application, focusing on the colors white, amber, red, and super red.