Robotics
Robots need to reliably sense their environment for efficiency, effectiveness and safety, whatever the application - ams OSRAM's sensing and illumination technologies are a key enabler
Helping robots sense their world better
Smart robots play an increasingly important role in industrial automation as well as in private homes. They can take over repetitive as well as dangerous tasks, enabling time and cost savings, safety and flexibility. Smart robotics range from traditional robot arms in production lines (e.g. automotive manufacturers) to mobile robots used in logistics, so-called AGVs (automatically guided vehicles) or AMRs (autonomous mobile robots) to advanced service robots for dedicated functions such as cleaning, inventory monitoring, harvesting and many others. In fact, the biggest fastest growing market is for residential service robots, such as vacuum cleaners and lawnmowers.
ams OSRAM's miniaturized sensing and illumination solutions are the best choice to increase the performance and precision of robots by making them smarter. Our portfolio covers all the critical sensing function for robots, from environment sensing for obstacle detection, collision avoidance and navigation purposes, to high precision positioning control. Battery management systems (BMS) in Li-battery powered devices benefit from our high accuracy I/V/T-sensing products, which enable best in class state-of-charge or battery state-of-health predictions.
Further, special supporting functions such as optical force sensing, temperature sensing and spectral sensing for material classification and identification or moisture level detection are covered by our comprehensive portfolio. Our well-known multi-lens-array (MLA) projection solutions open up new opportunities for enhanced human-machine co-existence or even collaboration setups, where the robot projects its next intended action onto the floor ahead of time. This significantly reduces the probability of so called collision artifacts where the robot is forced into a safe stop state without existence of any true collision
The better the robot understands and interacts with its dynamic environment, the more successful this technology becomes. Beside our unique portfolio of sensors, LEDs and lasers, ams OSRAM pursues a dedicated innovation roadmap regarding future technologies like smart-surface solutions and differentiating algorithms to advance robot capabilities.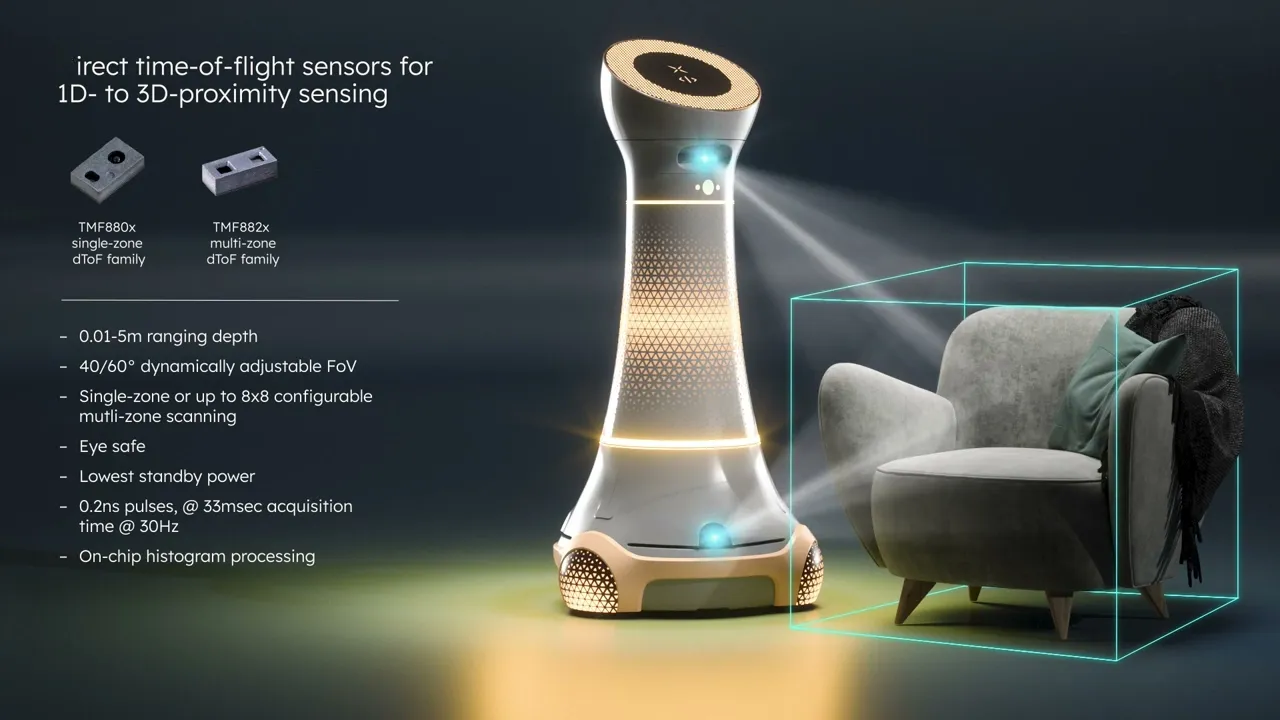 Mobile robots
Mobile robots - also called autonomously guided vehicles (AGVs) or autonomous mobile robots (AMRs) - are increasingly popular in automation. This is primarily driven by the availability of vision-based technologies that enable reliable 3D imaging for object recognition and collision avoidance, especially for navigation and safety applications in collaborative environments. The vision technologies used rely on specially designed cameras. These either consist of spatially separated, baseline image sensor modules (stereovision) with laser or LED based synchronized scene illumination, or a single image sensor paired with a laser dot projection module, which projects a predefined high-resolution dot pattern onto the observed scene (structured light). It is called "active stereovision" if both technologies are combined. In stereovision, the pixel triangulation between the two cameras allows computation of a 3D-depth-map of the complete scanned scene. In case of structured light the 3D-depthmap is derived out of the observed planar distortion of the predefined projection pattern.

We have significant experience in 3D imaging techniques, and provide an innovative portfolio of components ranging from VCSEL-based flood illuminators and dot pattern-emitters projectors to image sensors in near-infrared or visual light spectrum. Optical- and power efficiency are key differentiators for our integrated VCSEL illuminator and projection modules. Our small global shutter image sensors with high quantum efficiency enable very compact camera designs, which offer best-in-class optical performance at excellent signal to noise ratio and compelling energy efficiency. Sometimes camera-based 3D environment sensing solutions are not viable options, because of either privacy constraints or undesired design complexity of additional image processing-infrastructure. In such cases, ams OSRAM's integrated and highly scalable multi-zone direct time-of-flight 3D scanning modules could make a difference. They provide on-chip pre-processed 3D histogram data which can be directly fed into the navigation engine of the mobile robot; multiple of these sensors can be easily combined to increase the desired field of view.

Finally, these mobile robot systems could benefit from enhanced human-machine interfaces especially in collaborative environments. Instead of the robot only reacting to the actions performed by humans, which can lead to undesired collision artefacts, the robot could more intuitively indicate its next actions, allowing humans to prepare accordingly. Here, innovative projection solutions by ams OSRAM could make a real difference to the mobile robot application. More transparent interaction between robots and humans significantly reduces the amount of potential collisions and consequently minimizes the so-called 'safe stops' events of the robot.
Stationary robots
Stationary robots accelerate and execute manufacturing tasks in production such as pick-and-place, welding or assembly. With the help of more advanced vision-based solutions, robots can perform more complex tasks providing greater flexibility, rendering them useful for different tasks.

As seen with mobile robots already, advanced image processing combined with 2D or 3D camera solutions achieve the required precision and quality. ams OSRAM's global shutter image sensors master the challenge of acquiring high-quality images without motion artifacts.

A new trend in stationary robotics are modern "cobots" that closely collaborate with humans or operate in their direct neighborhood without the need for separating safety shields. The uptake of cobots in manufacturing necessitates reliable collision detection or even collision prevention. High performance vision solutions could be an enabling factor but are typically mounted at the outer part of the robot's workcell, requiring extra safety assessments during final installation. A more advanced setup could implement a set of multi-zone time-of-flight sensors around the robot's socket (for example) for sensing the safety critical presence of objects or humans relative to the exact position of the robot arm and the handled work piece. Such a configuration requires exact awareness of the actual arm position of the robot. ams OSRAM's contactless position sensors offer a high-resolution IC-solution that is ideally suited for sensing and controlling the linear or angular position of the robots' joint systems. Additionally, the position sensors help motor drives to control the torque and speed more precisely by providing accurate rotor position data, especially at start and stop of the motor.

Finally, object detection for pick-and-place tasks could be further enhanced by combining the vision system with a multi-channel spectral sensor for material categorization. Imagine a setup where work pieces differ only by material but not in color or shape. ams OSRAM sensors can read the spectral signature of objects and simplify the identification of objects.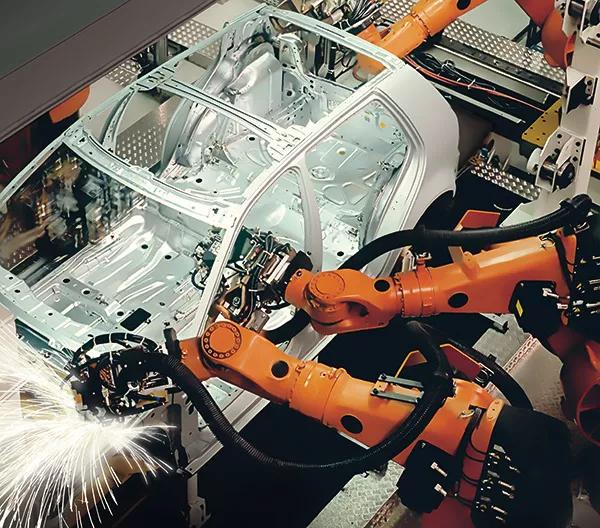 Household robots
Household robots, primarily vacuum robots or robotic mowers, have become popular in recent years. These robots are a consumer version of the industrial mobile robots, typically operating at lower speeds and optimized for cost. The mobile platform is extended by a dedicated function, such as vacuum cleaning. Due to lower weights and slower speeds, the scanned area for environment sensing is narrower compared to professional systems. Often a combination of stereovision or structured light imaging for front view is paired with time-of-flight sensor modules for obstacle sensing at the sides or floor-oriented for cliff detection such as stairs. Due to the smaller robot size, even small objects like cell phone charging cables could turn into a blocking obstacle which requires reliable detection.

An innovative concept is floor scanning with spectral sensors: They not only make it possible to distinguish between different floor types (carpet, parquet, etc.) but can also measure different moisture levels if wet cleaning is desired. According to the observed floor type and floor state the sensor could trigger different care actions: brushing or vacuum cleaning for carpets and wiping for parquet.

ams OSRAM's optical and spectral technology is at the forefront of these challenges, covering all bases, from small details like robust sunlight immunity to big-picture items like absolute precision and low power consumption enabling extended runtimes on small batteries. Key sensor challenges are resolution, precision, range and power consumption.