CMOS image sensors
Innovative small form factor, high sensitivity and power efficiency CMOS image sensors.
Mira image sensor
Global shutter NIR image sensor from ams OSRAM advances 2D and 3D sensing with high quantum efficiency at visible and NIR wavelengths.

Mira image sensor's high quantum efficiency enables operation with low-power emitter and in dim lighting conditions.

Stacked chip design uses ams OSRAM back side illumination technology to shrink package footprint to optimized size, giving greater design flexibility to manufacturers of smart glasses and other space-constrained products.
Low-power operation and ultra-small size make the Mira ideal for active stereo vision or structured lighting 3D systems in drones, robots and smart door locks, as well as mobile and wearable devices. Global shutter enables the distortion-free capture of fast objects by exposing all pixels of the array simultaneously.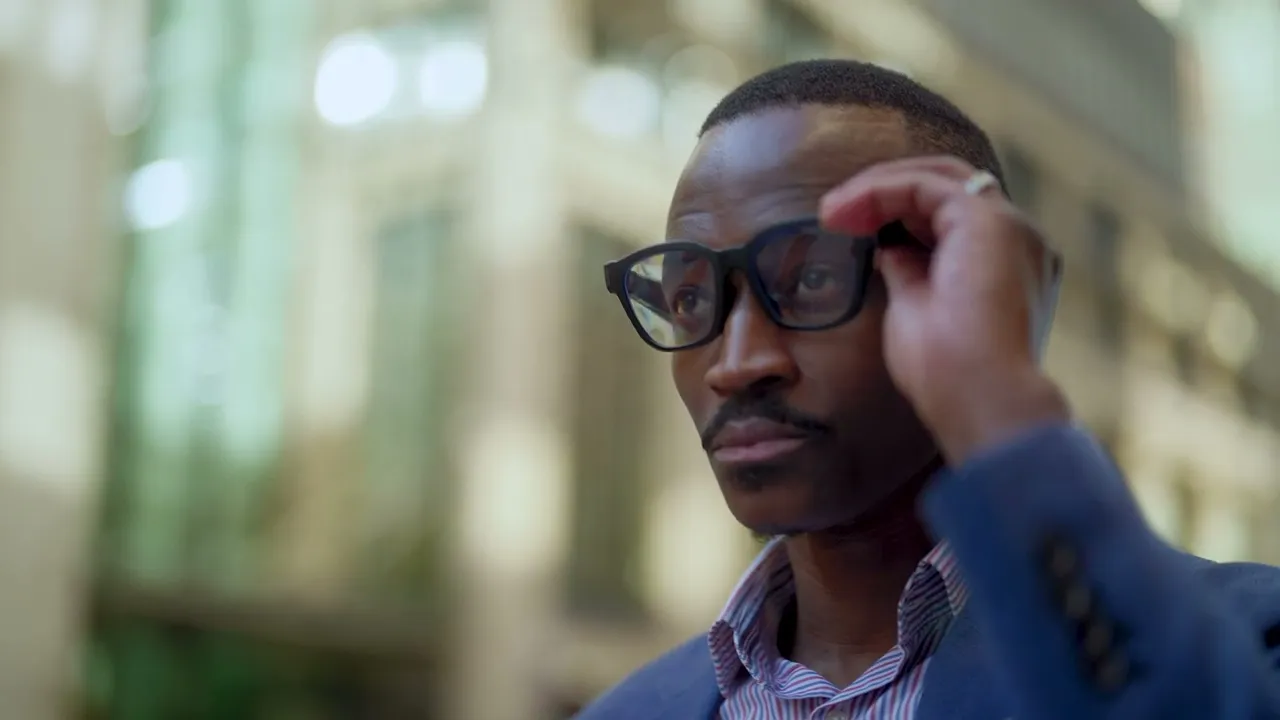 Miniature camera modules
The NanEye miniature CMOS image sensors and corresponding smallest digital camera module configurations are available in modular form factors as small as 1 mm x 1mm. Various optics options are available. As small as a pinhead, NanEye fits in the smallest of locations, is lightweight, and also benefits from a low Z-height. The full NanEye camera module occupies minimal board area and also provides system designers with maximum integration flexibility ideal for applications like endoscopy, AR/VR headsets, mini-drones or robotics.



Featured Products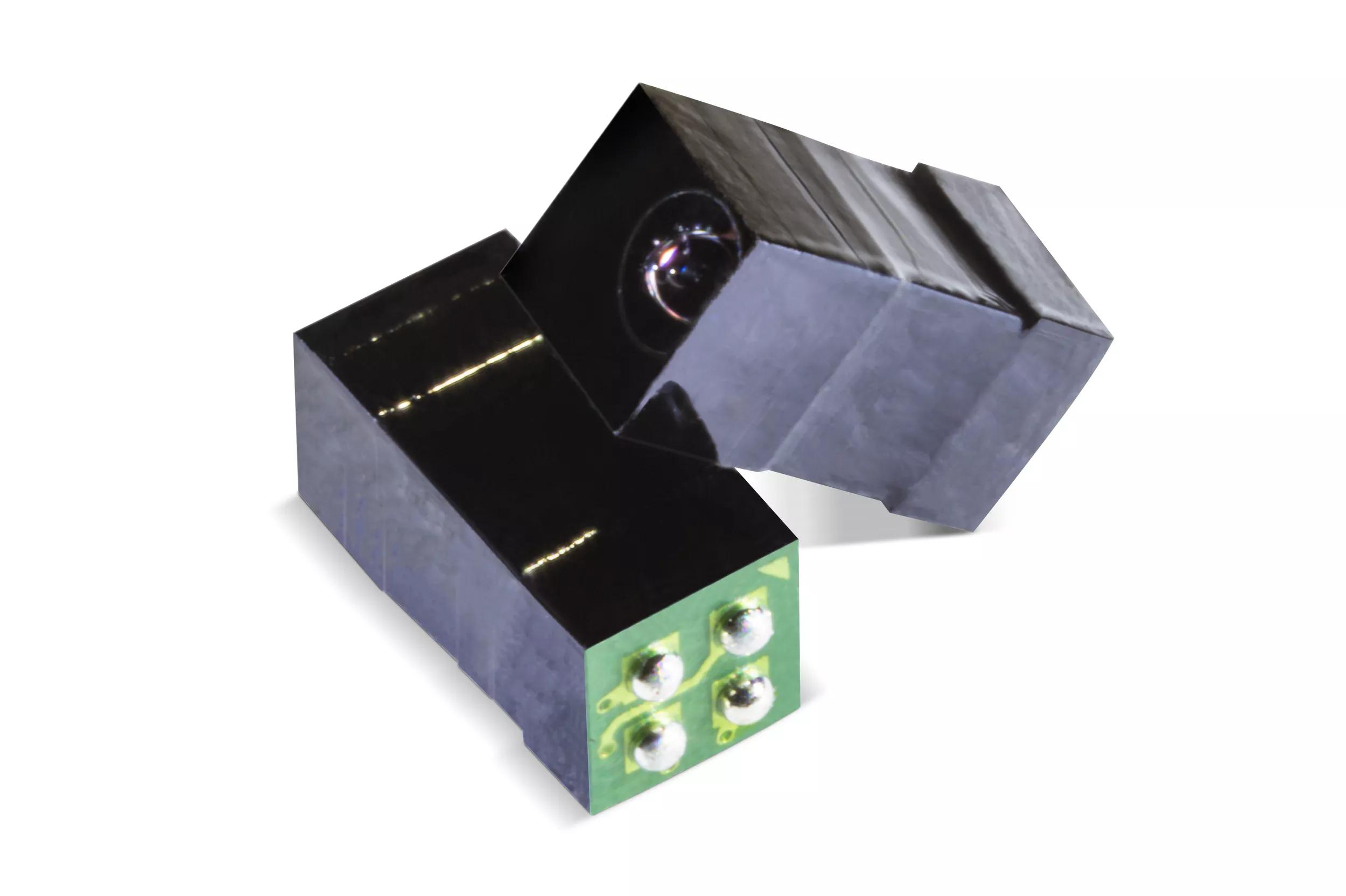 ams NanEyeM Miniature Camera Modules
NanEyeM is a miniature sized image sensor for vision applications where size is a critical factor. The ability of the camera head to drive a signal through long cables makes this the ideal component for minimal diameter endoscopes. With a footprint of a just 1 mm2, it features a 320x320 resolution with a high sensitive 2.4-micron rolling shutter pixel, with large full well capacitance. The sensor has been specially designed for medical endoscopic applications where high SNR is mandatory. The sensor has a high frame rate of about 49 fps to permit SNR enhancement and a smooth, low delay display over a wide range of standard interfaces. Additionally, the frame rate can be set as low as 9 fps for use of extended exposure time and lower power consumption. The sensor includes a 10-bit ADC and a bit serial LVDS data interface. The sensor is able to drive the signal through a cable length of up to 3 m.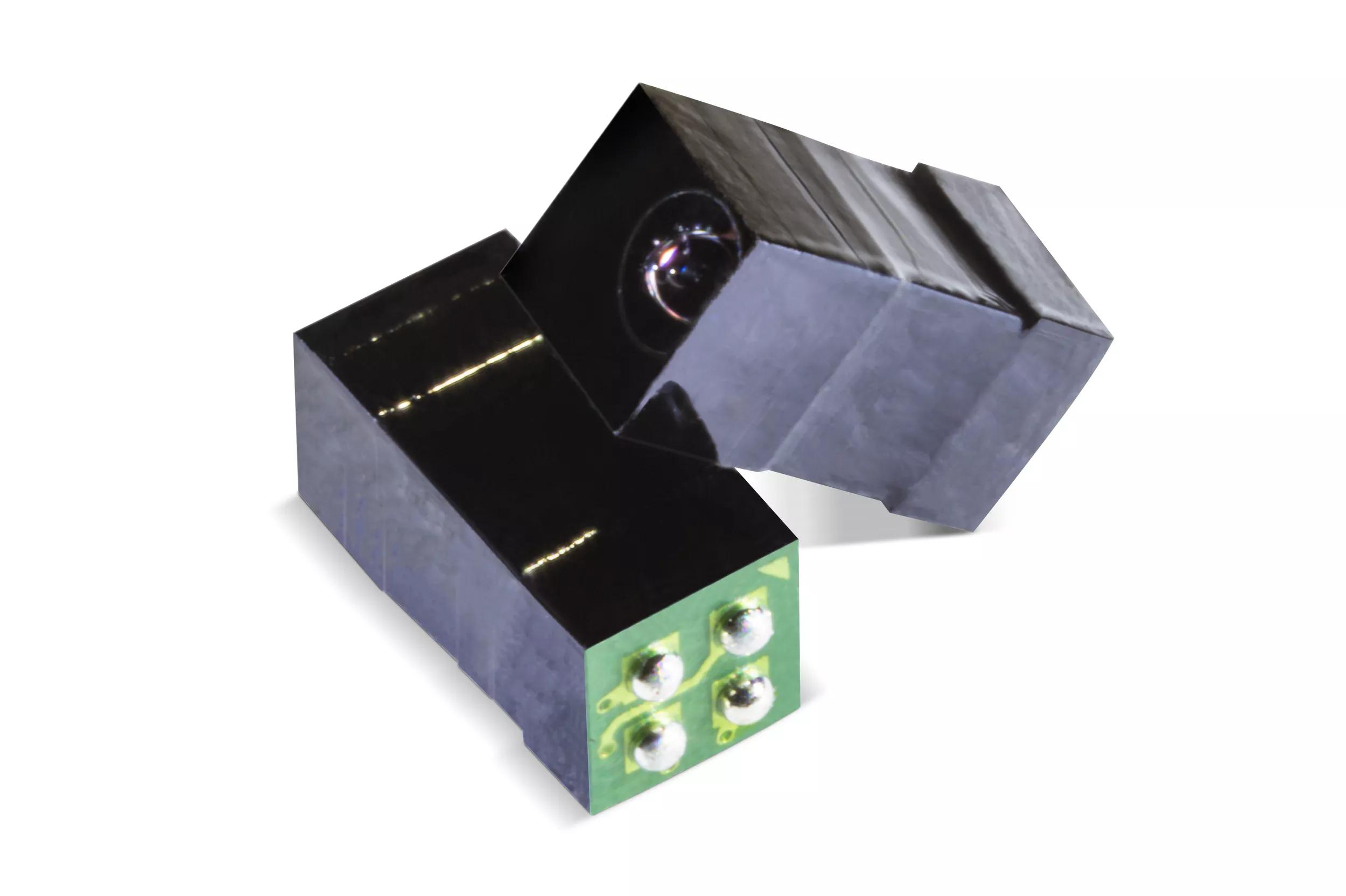 ams NanEyeC Integrated Camera Module
Industry´s smallest digital camera module targeting mobile or wearable consumer devices as well as medical applications. The ams NanEyeC camera module offers a unique solution for video applications where the camera must be virtually invisible to the end user, or be accommodated in a very small space.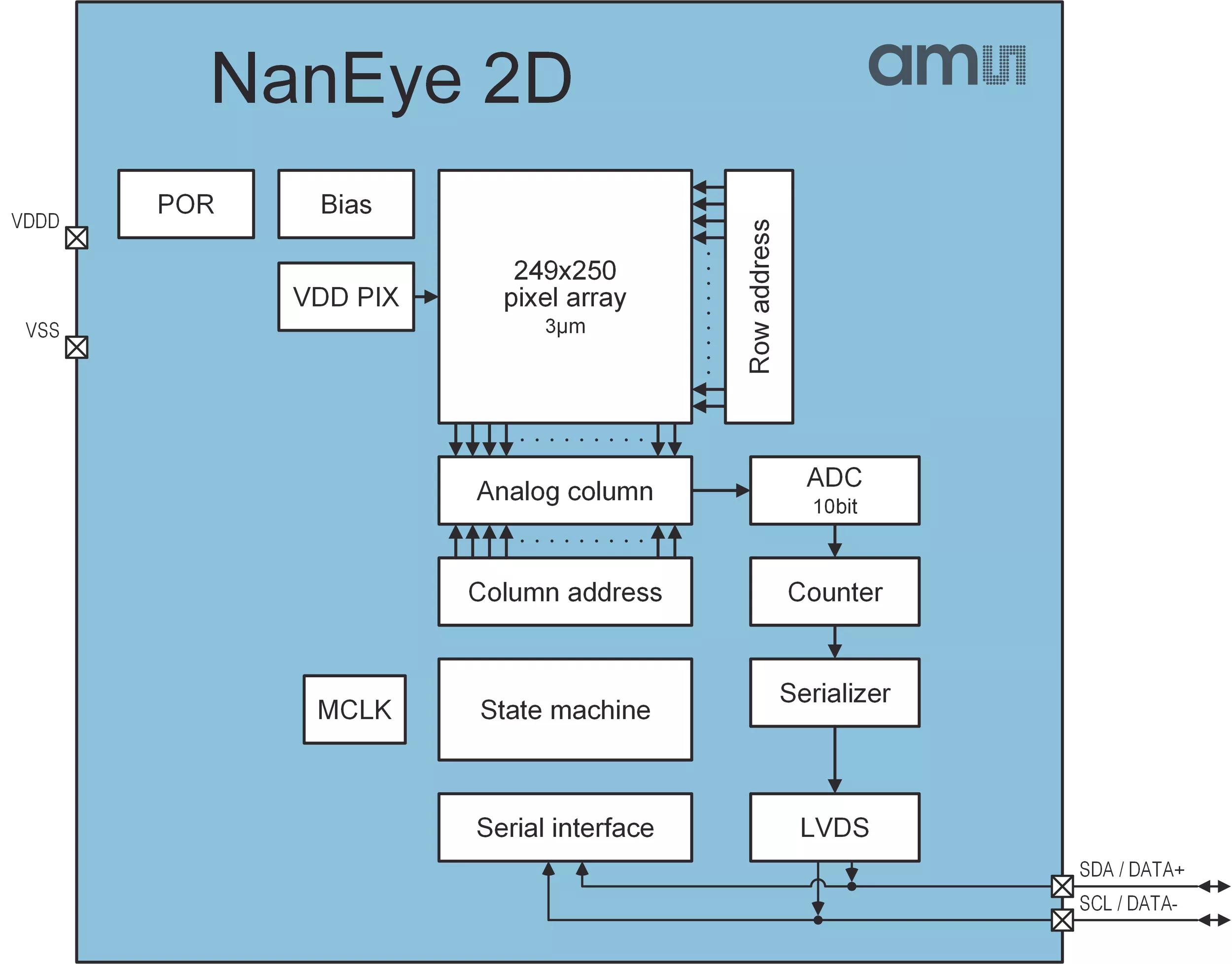 ams NanEye
NanEye is a miniature sized image sensor for applications where size is a critical factor. The ability of the camera head to drive a signal through a cable up to 3m makes this the ideal component for minimal diameter endoscopes. With a footprint of just 1mmx1mm, it features a 249x250 resolution with a high sensitive 3um x 3um rolling shutter pixel. The sensor has a high frame rate of about 43fps to 62fps adjustable over power supply. The sensor includes a 10bit ADC and a bit serial LVDS data interface. The data line is semi duplex, such that configuration can be communicated to the sensor in the frame brake.
Area scan sensors
The ams OSRAM family of pipelined global shutter sensors features high frame rates for a wide range of demanding professional and industrial applications. Their resolutions range from 2Mpixels up to 50Mpixels. Rolling shutter image sensors feature high 71Mpixel resolution for use in demanding industrial applications.

Featured Products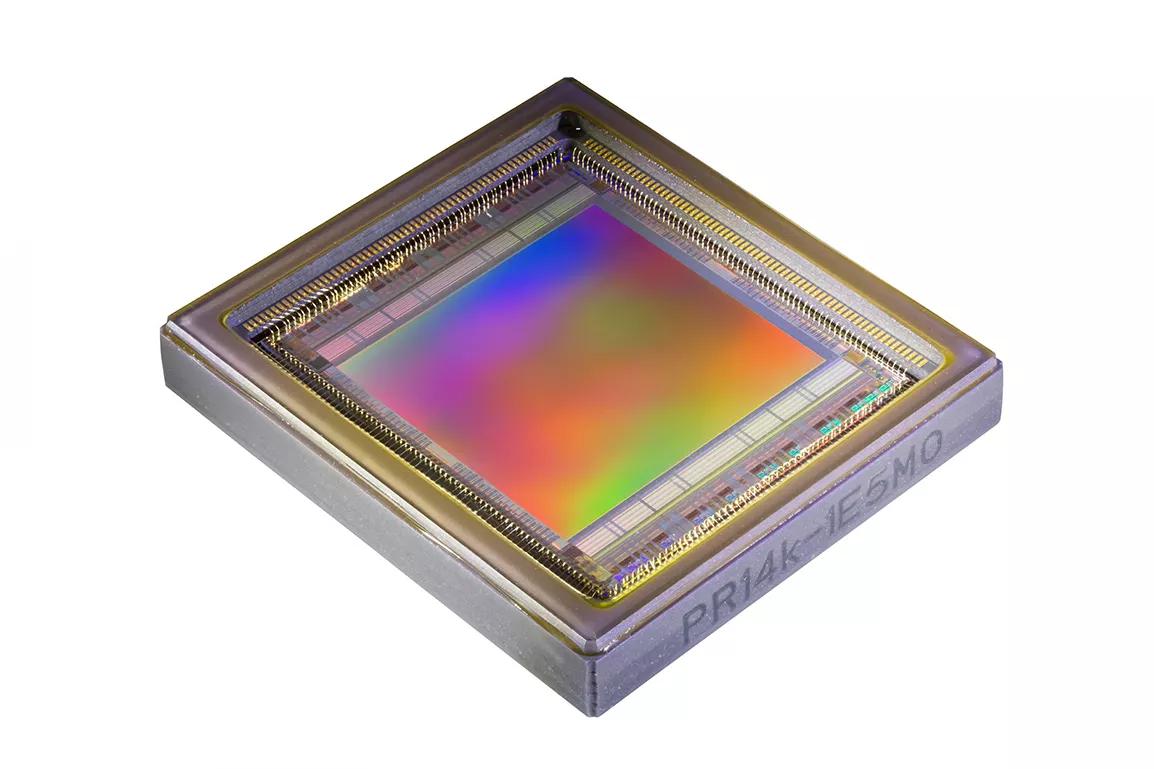 ams CSG14K - 1" Global Shutter Image Sensor
With the CSG14K, ams offers a 14Mp global shutter area scan sensor, featuring 3.2μm charge domain pixels for the most demanding machine vision applications in 1" optical size.The CSG family features fast 12-bit column based ADCs to achieve industry-leading high frame rates at full resolution enabling faster inspection and higher data throughputs. Data throughput can be reduced by subsampling or binning enabling even higher frame rates. Optical black pixels are used for automatic black level calibration and row noise correction. Computation in the ISP pipeline can be streamlined by the histogram and image statistics that are calculated on-chip. Binning of pixels is possible to improve FWC, DR and SNR. HDR modes operate with dual exposure. Exposure and read-out can be externally triggered.The CSG family comes in a 218-pin LGA package with 22mm x 20mm x 3.3mm for ultra-compact(C-Mount) designs. Typical applications include 4K video, factory automation, intelligenttransportation systems (ITS) and general machine vison.
ams CMV50000
The CMV50000 is a high speed CMOS image sensor with 7920 x 6004 effective pixels (47.5Mp) developed for machine vision and video applications. The image array consists of 4.6μm pipelined 8T global shutter pixels which allow exposure during read out, while performing true CDS (Correlated Double Sampling) operation. The image sensor has 22 12-bit sub-LVDS data outputs. The image sensor also integrates a programmable analog gain amplifier and offset regulation. Each output channel runs up to 830 Mbps maximum which results in 30 fps frame rate at full resolution in 12-bit. Higher frame rates can be achieved in row-windowing mode or row-subsampling mode. These modes are all programmable using the SPI interface. All internal exposure and read out timings are generated by a programmable on-board sequencer. External triggering and exposure programming is also possible. Extended optical dynamic range can be achieved by a dual exposure HDR mode. For compatible sockets from Andon Electronics visit http://www.andonelect.com/secure/ImagesClientUpload/crossreferences/image_sensor/ams_(cmosis).pdf
Line scan sensors
The CMOS line scan image sensor family from ams consists of 23 variants, offering a range of resolution and pixel size specifications. Resolution options range from 2kpixels up to 16kpixels and line rates extend up to 120,000 lines/s with the new 4LS product family.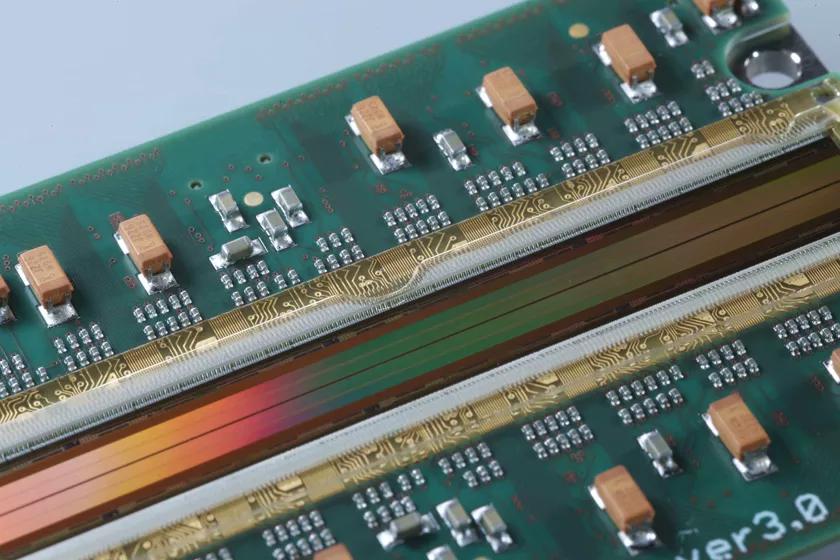 Featured Products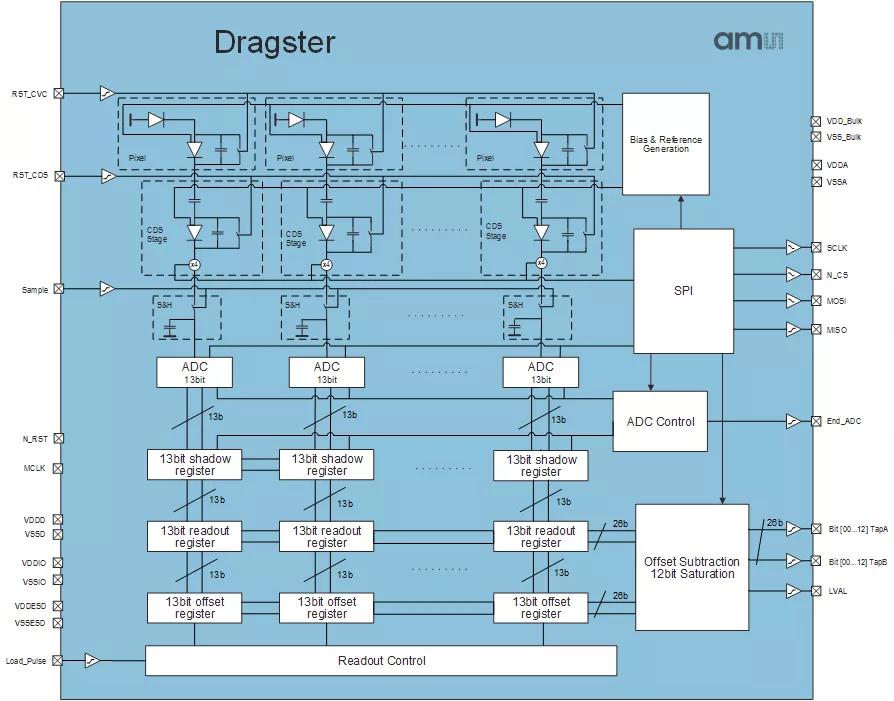 ams Dragster Line Scan
Dragster is a digital line-scan sensor using two types of basic elements: a single line element with 7µm x 7µm and 3.5µm x 7µm pixel size, and a dual line element with mono and color option and 7µm x 7µm pixel size. The readout is made by two 12-bit wide digital taps organized in odd/even order for each 2k segment. For each line segment, all 2k pixels follow the same readout approach. For sensor versions with 3.5µm pixel pitch, two readout circuits are placed on each side of the pixel line, to lead to a basic segment of 4k pixels, even pixels read out over the bottom readout, odd pixels read out over the top readout. For compatible sockets from Andon electronics visit http://www.andonelect.com/secure/ImagesClientUpload/crossreferences/image_sensor/ams_(cmosis).pdf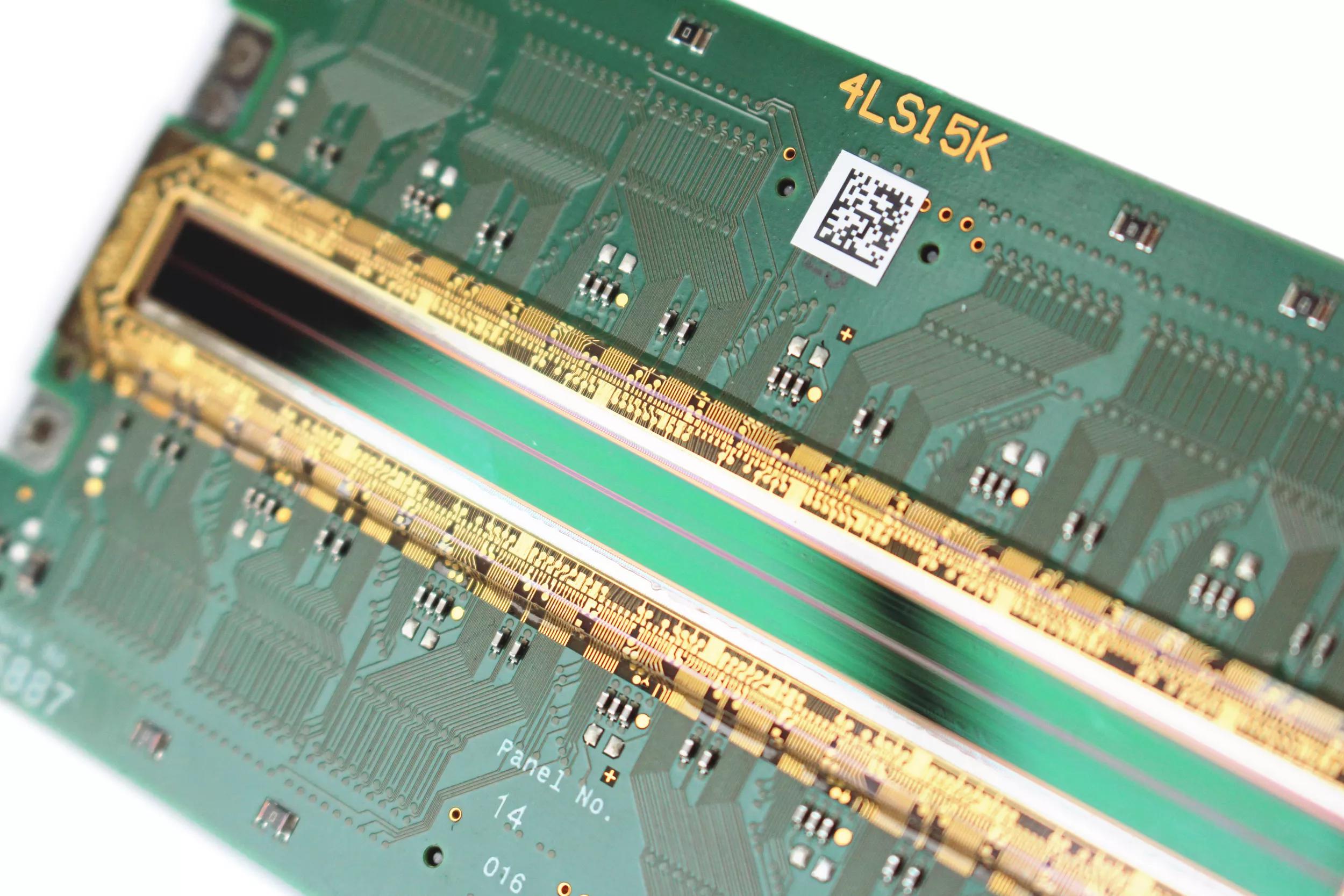 ams 4LS – High-Speed Line Scan Image Sensors
The 4LS is a series of high-speed CMOS line scan sensors optimized for applications requiring fast line rates at high resolutions for outstanding image quality. Available in 5k, 10k and 15k resolutions, the 4LS addresses the growing demand for high performance line scan cameras targeting demanding applications such as high-end web inspection, food sorting & inspection and print inspection.
Premium distribution partners
These CMOS (Complementary metal–oxide–semiconductor) imaging sensors serve a broad range of applications and markets including machine vision, medical electronics, broadcast equipment, traffic management, scientific instrumentation and photography. ams OSRAM also supplies miniature camera modules for endoscopy-like applications.

ams OSRAM offers its CMOS imaging sensors as complete turnkey solutions, and the whole process from specification and design, through prototyping and product qualification, to volume production, is implemented by ams OSRAM.