Medical imaging
ams OSRAM X-ray sensors and nano-scale cameras deliver precision and image quality with cutting-edge performance helping medical professionals to see deep inside the human body.
Leading in medical imaging detectors
ams OSRAM is a leader in computed tomography and digital X-ray for medical imaging. We design and manufacture unique medical imaging sensing solutions which offer outstanding precision, high acquisition speeds, low noise and ultra-low power consumption. This enables manufacturers of scanning equipment to produce sharp images while exposing patients to lower doses of radiation.
A CT scanner is one of the most powerful diagnostic tools available to medical practitioners. A scan produces 3D images of organs like the head, heart or lungs, and with a high contrast ratio between bone, tissue, blood vessels and other parts of the body.
A key component of a modern multi-slice CT scanner is the detector array: this senses the X-ray radiation which is partially attenuated by tissues in the patient's body and converts them into a digital signal.
The design of the detector array affects its operating characteristics, such as sensitivity, noise, resolution and speed.
ams OSRAM takes its leading imaging sensing expertise forward to achieve an unprecedented level of image quality at lower doses, offering a range of high-performance solutions addressing both three-side and four-side buttable options, exhibiting low noise, ultra-low power, and high readout speeds.
Such solutions range from stand-alone analog-to-digital converters allowing maximum flexibility for our customers, to highly integrated ICs combining both photodiode arrays and readout circuits in a single silicon package, driving ultimate performance.

To complement the solution offering ams OSRAM also provides highly accurate 1D/2D/3D sensing technologies which enable best possible measurement of the the patient's exact position for initial calibration and on-the-fly scanning data corrections which lead to further enhanced image quality.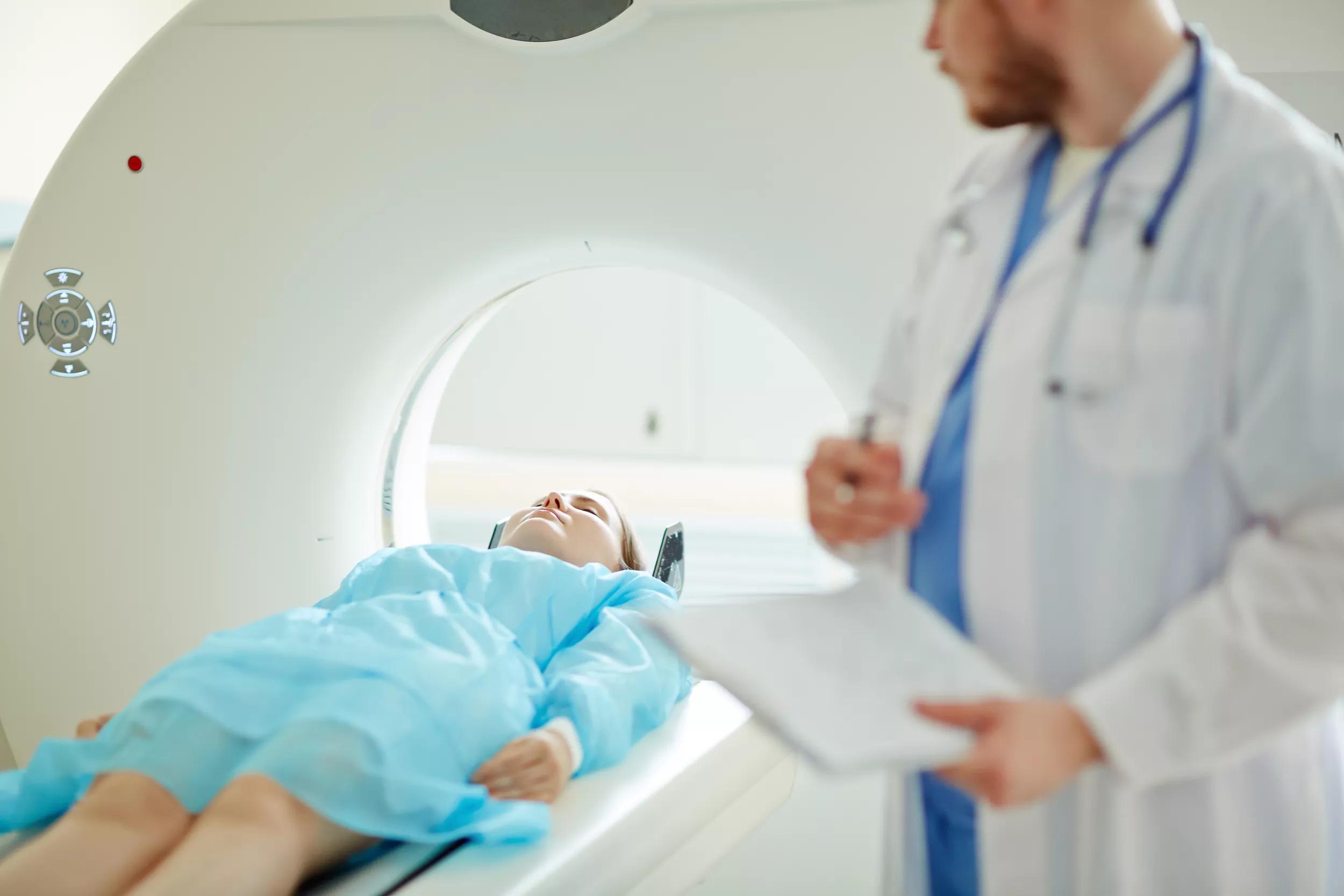 Getting the most out of digital x-ray
Digital X-ray equipment is widely used in general radiography, mammography and interventional radiology. The flat panel detectors (FPDs) integrated in this equipment must produce high-resolution images with low noise.
ams OSRAM solutions for these FPDs help digital X-ray equipment manufacturers to produce accurate images and to increase scanning rates. The ams OSRAM portfolio includes high-speed readout circuits and gate drivers optimized for line times as low as 15µs. These devices help to increase the frame rate in dynamic X-ray applications such as fluoroscopy.
For static applications using portable and battery-powered FPDs, ams OSRAM offers readout circuits which dissipate as little as 1.1mW per channel, allowing radiologists to perform more X-ray exposures before the detector has to be recharged.
FPDs are the core of any digital X-ray system. They collect the radiation generated by the X-ray tube and filtered through the patient's body. They deliver the output image that radiologists examine to formulate their diagnosis.
ams OSRAM draws on its extensive know-how in integrated circuit design, its expertise in semiconductor fabrication processes and its familiarity with the medical imaging equipment ecosystem to offer state-of-the-art readout integrated circuits and gate drivers, both as standard products and as customized devices for specific application needs.
The latest ROIC is the digital X-ray sensor AS5850B: a 16-bit, 256-channel low-noise charge-to-digital converter suitable for use in most digital X-ray systems. The high degree of programmability enables system performance optimization in a wide range of applications. The combination of fast speed, low noise and low power consumption maximizes the image quality and minimizes the patient's exposure to radiation, while reducing time to market.
For exact patient positioning, ams OSRAM's provides solutions for exact laser or LED based projection markers and position sensors to get the optimal placing of the patient not only visualized but also cross-checked for the users.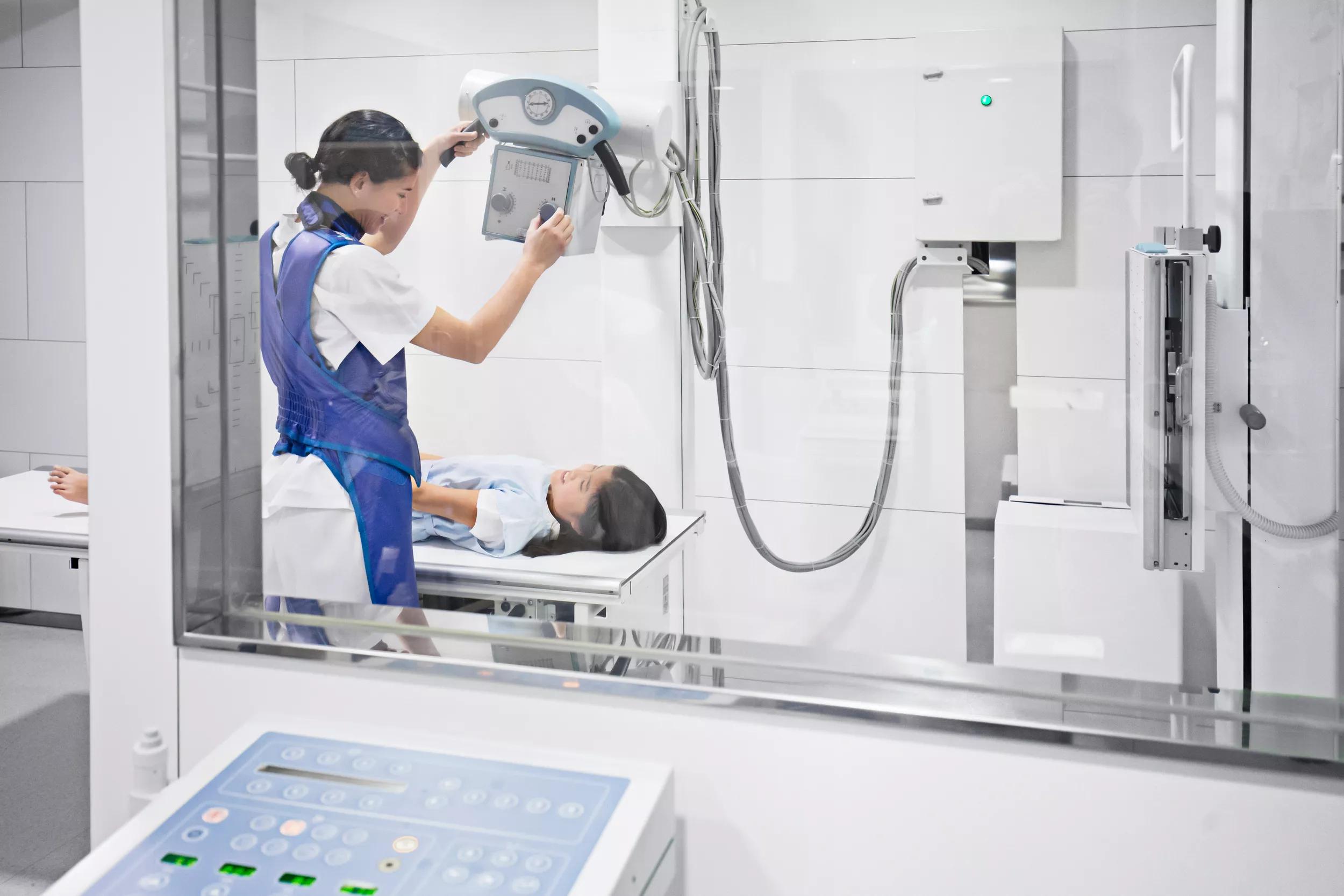 Enabling endoscopy innovation
An endoscope inserted into the body enables a medical practitioner to examine the inside of the patient. The camera at the tip of the endoscope must be as small as possible, to minimize the patient's discomfort.
Endoscopes equipped with an ams OSRAM NanEye miniature camera module can have a remarkably narrow tip: the area of a NanEye module – a complete digital camera-on-chip – is <0.5mm2. ams OSRAM also offers expertise in integration to help medical equipment manufacturers to develop miniature cameras for micro-invasive surgery.
Manufacturers may also draw on ams OSRAM's expertise in the integration of wafer-level optics, which enables the production of a complete endoscopy system-in-package (SiP). Such SiP solutions offer the most effective way to reduce both the size and cost of an endoscope.
ams OSRAM's broad LED and laser portfolio can meet all necessary lighting requirements, scalable in device size, spectrum and illumination power. In combination with additional spectral sensing technology from ams OSRAM on the fly diagnostics are possible for example of tissue for cancer detection. Those advanced sensing solutions will allow for faster diagnostic results and less stress on the patient.