Ready to camp: ams OSRAM Automotive celebrates its debut at the Caravan Salon in Düsseldorf
ams OSRAM Automotive is exhibiting for the first time at the Caravan Salon in Düsseldorf where it will be presenting its wide range of vehicle accessories for campervans and motorhomes
From 26 August to 3 September 2023, visitors to the fair can try out and purchase current products from the camping range at stand A75 in Hall 13
ams OSRAM is making it easier to see and be seen on camping adventures with products such as its NIGHT BREAKER® LED family and the new LED inspection lights as well as improving safety with maintenance equipment for tyres and batteries
Premstätten, Austria and Munich, Germany (22 August 2023) – Following strong expansion of the camping portfolio, ams OSRAM (SIX: AMS) will be exhibiting at the Caravan Salon in Düsseldorf for the first time this year. At the world's leading trade fair for mobile leisure, the number 1 supplier of automotive lighting will be showcasing its award-winning solutions, such as the TA20 warning light and the NIGHT BREAKER® LED family. Visitors to the ams OSRAM stand can also see the comprehensive range of accessories for greater safety and reliability on camping adventures, such as the TYREinflate air pump and the BATTERYstart engine starter.
"Our latest developments will help drivers see the road ahead better and be seen better. Breakdowns and other difficulties cannot always be avoided, so we at ams OSRAM think it very important that travelers should start their adventures well prepared and be able to respond to any situation," explains Steffen Fischer, brand ambassador of OSRAM Automotive.
As bright as day – NIGHT BREAKER® H4 LED and H7 LED
You are looking forward to arriving at your destination to start your camping adventure, but the journey on an unfamiliar route along dark and dangerous country roads is making you a little uneasy. Fortunately, there is some good news. The award-winning NIGHT BREAKER® H4 and H7 LED retrofit lamps have now been approved for selected campervan models. They provide up to 230 percent brighter light while reducing glare by 50 percent1, making these innovative retrofit lamps true trailblazers in automotive lighting. They underline the position of ams OSRAM as the market leader in automotive lighting and contribute to greater visibility and safety on the roads. A list of compatible vehicle models is available here.
Be seen in an emergency – thanks to TA19 and TA20
If you have broken down and are waiting for roadside assistance you need to quickly make sure you can be seen by other road users. In Germany you can warn other road users of your presence easily and reliably thanks to the winner of the German Innovation Award in the "Excellence in Business-to-Consumer – Lighting" category, the OSRAM LEDguardian® ROAD FLARE Signal TA20. This LED warning light flashes orange through 360 degrees so it can be seen from far away, day or night. It has built-in magnets so it is easy to attach it to a vehicle. Together with the mandatory warning triangle it will actively alert other road users to the dangerous situation ahead. For vehicles over 3.5 tonnes, it is mandatory to carry and use a warning light in the event of a breakdown. The OSRAM LEDguardian® TRUCK FLARE Signal TA19 is the perfect companion.
Light where it is needed – OSRAM LEDinspect®
For thorough vehicle inspections you need sufficient light above all else, especially for those hard-to-reach places. The OSRAM LEDinspect® family provides optimum visibility. Each product is individually designed to make working on a vehicle easier with its tilt-and-swivel fold-out heads. The OSRAM LEDinspect® HEADTORCH 250, for example, is highly versatile and easy to use with its 60° adjustment angle. The OSRAM LEDinspect® SLIM MAX1000 is ideal for inspecting narrow gaps thanks to its ultra-slim design and multi-angle positioning. The product has an integrated hook and magnets for hands-free work so it's perfect for manual work, car repairs and jobs around the home.
A flat tyre – what do we do now?
Help is at hand. The OSRAM TYREinflate family is an essential item of equipment on any long journey. Its compact pumps can inflate tyres, balls or airbeds quickly and easily. Different models are available depending on requirements and the size of the vehicle. The OSRAM TYREinflate 6000, for example, has an automatic shut-off function, an air release valve and a power bank function so the product can also be used as a charger for smartphones and other electrical devices.
Breakdown assistance in your glove box
The week at the campsite is coming to an end, everything is packed up, but the battery is flat. Open the glove box and take out OSRAM BATTERYstart 300 or 400. It will start the engine in no time at all. OSRAM BATTERYstart 300 can be used to start 12V vehicles with up to 6-liter petrol engines or 3-liter diesel engines, and OSRAM BATTERYstart 400 can be used for 12V vehicles with up to 8-liter petrol engines or up to 4-liter diesel engines. At night or in poor visibility the built-in flashlight will help you see what you are doing in the engine compartment.
Charging batteries on holiday
A long stay at a campsite is a real stress test for batteries: While the battery is kept almost fully charged by the alternator when the engine is in use, it slowly but steadily discharges if the vehicle remains static for a long period of time. Topping up the battery is therefore essential and easy to do with the OSRAM BATTERYcharge 908: This intelligent product will charge, protect and restore your vehicle battery. It prevents full discharge, thereby extending battery life. At the touch of a button, OSRAM BATTERYcharge 908 will start a multi-stage charging cycle and automatically switch to maintenance mode as soon as the battery is fully charged again. The product offers additional functions such as protection against reverse polarity and overvoltage. OSRAM BATTERYcharge 908 is suitable for vehicles up to 24V and therefore for campervans and motorhomes.
1These offer up to 230 percent brighter light and 50% less glare compared to the maximum permissible thresholds of ECE R112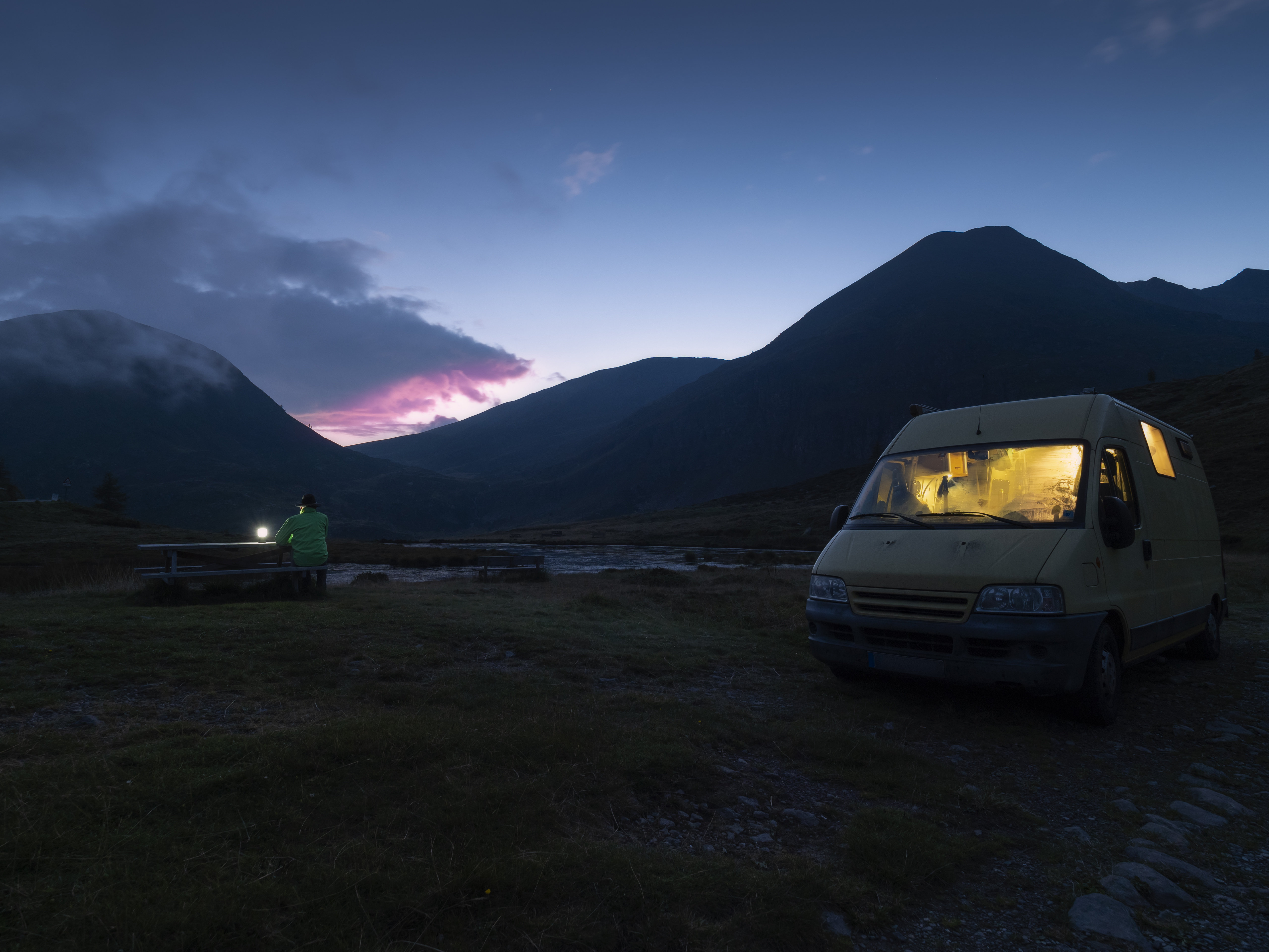 With its innovative lighting solutions, ams OSRAM ensures visibility on camping adventures.
Picture: ams OSRAM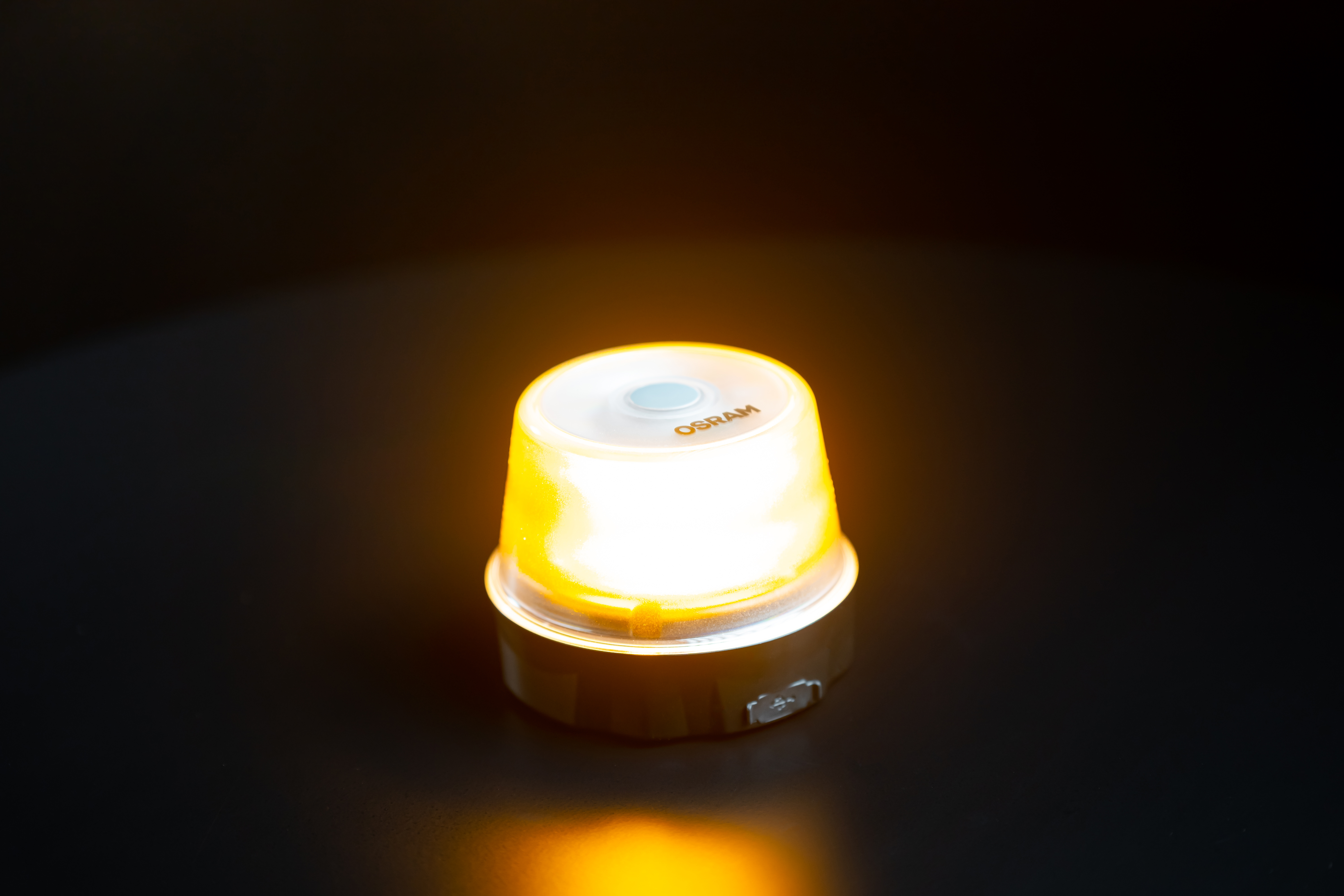 Product picture of the LEDguardian ROAD FLARE Signal TA20
Picture: ams OSRAM
Further information
Press contact:
Andrea Gregori
About ams OSRAM
The ams OSRAM Group (SIX: AMS) is a global leader in intelligent sensors and emitters. By adding intelligence to light and passion to innovation, we enrich people's lives.
With over 110 years of combined history, our core is defined by imagination, deep engineering expertise and the ability to provide global industrial capacity in sensor and light technologies. We create exciting innovations that enable our customers in the automotive, industrial, medical and consumer markets maintain their competitive edge and drive innovation that meaningfully improves the quality of life in terms of health, safety and convenience, while reducing impact on the environment.
Our around 21,000 employees worldwide focus on innovation across sensing, illumination and visualization to make journeys safer, medical diagnosis more accurate and daily moments in communication a richer experience. Our work creates technology for breakthrough applications, which is reflected in over 15,000 patents granted and applied. Headquartered in Premstaetten/Graz (Austria) with a co-headquarters in Munich (Germany), the group achieved over EUR 4.8 billion revenues in 2022 and is listed as ams-OSRAM AG on the SIX Swiss Exchange (ISIN: AT0000A18XM4).
Find out more about us at https://ams-osram.com
ams is a registered trademark of ams-OSRAM AG. In addition, many of our products and services are registered or filed trademarks of the ams OSRAM Group. All other company or product names mentioned herein may be trademarks or registered trademarks of the respective owners.
Visit ams OSRAM on the social media channels: >Twitter >LinkedIn >Facebook >YouTube