"Light out of nowhere": New ALIYOS™ LED-on-foil technology from ams OSRAM creates unprecedented effects in automotive lighting
ALIYOS™ technology pushes boundaries of multi-segmented area lighting and enables customization of light emission patterns
Characteristics such as transparency, thinness, 2.5D bendability and freedom to create new lighting effects enable customers to differentiate their lighting solutions
Legal requirements for the luminous intensity of rear combination lamp (RCL) functions are met with the ALIYOS™ technology
ALIYOS™ LED-on-foil technology enables creation of customized, multi-segment lights in new configurations such as three-dimensional structures or 'invisible' lights on curved panels
The ALIYOS™ lighting technology reflects ams OSRAM's leadership position in innovation in automotive lighting
Premstaetten, Austria and Munich, Germany (25 September 2023) -- ams OSRAM (SIX: AMS), reveals today the development of its ALIYOS™ LED-on-foil technology, which opens up all-new possibilities for design freedom and creativity in automotive lighting.
Using ALIYOS™ technology, car makers will be able to express brand personality through exterior and interior lighting in previously unattainable ways, as well as to introduce completely new three-dimensional lighting and animation effects for displaying dynamic individual messages and information signals to drivers and other road users.
Gerald Broneske, Vice President Global Product Marketing OS Automotive at ams OSRAM, said: 'With the release of its ALIYOS™ technology, ams OSRAM is taking another major step towards strengthening its position as one of the most innovative suppliers of lighting technology in the automotive industry. The introduction of advanced LED-on-foil technology marks a new revolution in the way that LEDs are applied in automotive lighting, giving customers exciting new opportunities to differentiate vehicle brands.'
Transparent, flexible, thin LED lighting
The ALIYOS™ technology enables ams OSRAM to apply mini-LEDs on a thin, flexible and transparent substrate. Connected by almost invisible metal traces, the mini-LEDs can be arranged with a large degree of freedom to form individually addressable segments of any shape. They can be positioned to perform standard lighting functions such as a stop light or turn indicator, but with unique, custom shapes and animation effects. The mini-LEDs can also be used to display symbols, words, images or abstract patterns for decoration, information, or warning.
Transparency, an outstanding feature of ALIYOS™ technology, in combination with mini-LEDs, means that light can appear out of nowhere. In addition, multiple foil assemblies can be placed one behind the other to create dramatic new 3D lighting and animation effects.
ams OSRAM is now working with the world's leading automotive Tier One suppliers and OEMs to explore the new possibilities in automotive interior and exterior lighting. One demonstration design exploits the transparency of the ALIYOS™ foil substrate to produce new 3D effects in rear lights: a transparent array of three ALIYOS™ LED foils mounted one behind the other creates a sense of depth.
Another design shows that ALIYOS™ LED-on-foil technology can be applied to curved body panels, and is invisible when turned off, creating the effect of 'Light out of nowhere'.
Thanks to the unique transparency, thinness and flexibility of ALIYOS™ technology, thousands of other new design possibilities are now open to car manufacturers. Legal requirements, for example UN Regulation No. 148 for the brightness of rear light and stop lights as well as turn indicators, can be met through the application of ALIYOS™ technology.
Industrialization of the technology has begun. The aim is to enable the first cars to be equipped with ALIYOS™ technology by the end of 2025, and to have achieved qualification for compliance with automotive quality and safety standards by this time.
ams OSRAM is introducing the ALIYOS™ technology at the ISAL 2023 automotive lighting symposium (Darmstadt, Germany, 25-27 September).

Learn more about ALIYOS™ and find more details about Light-on-foil technology.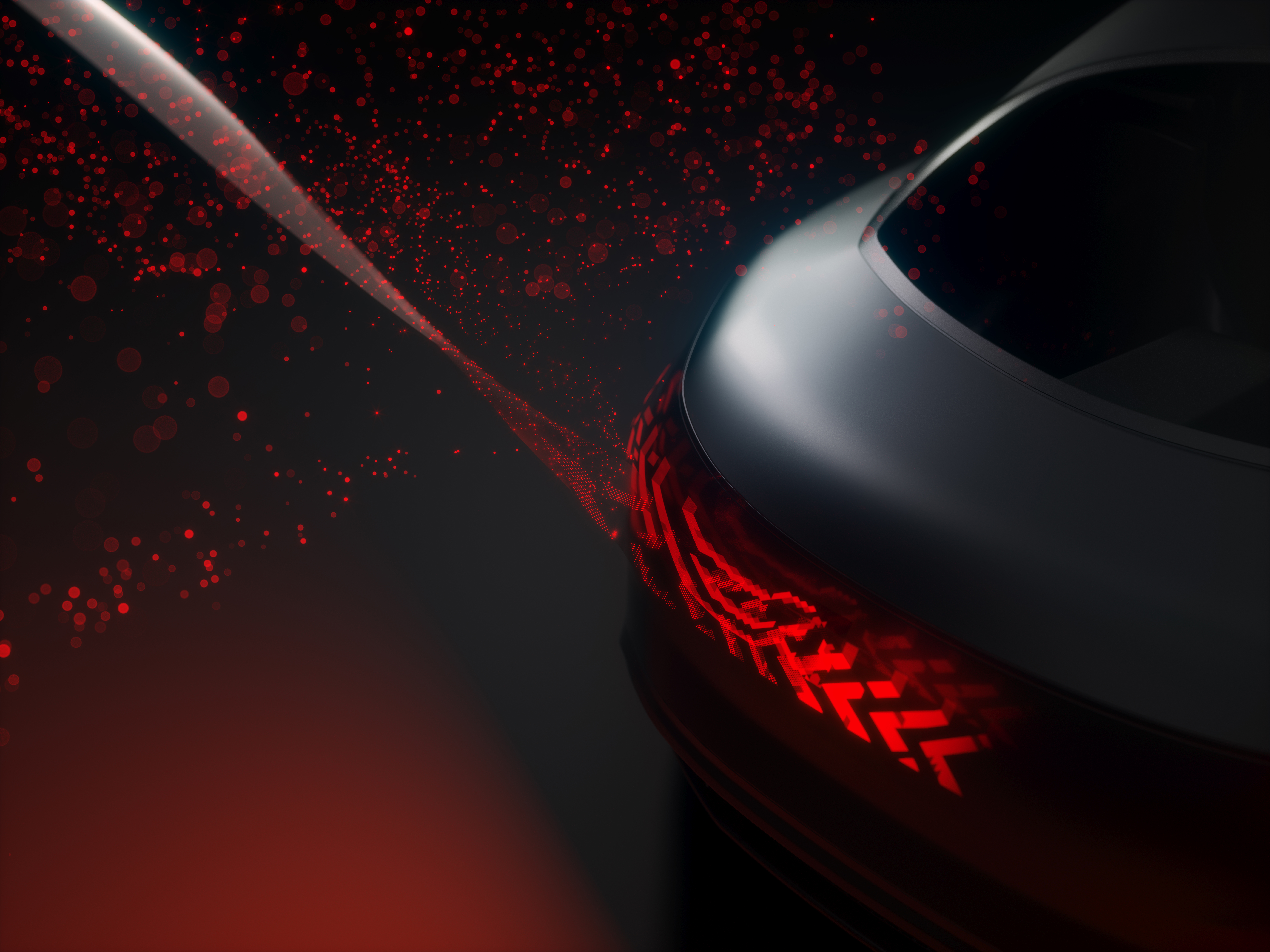 Tech Image for ALIYOS™
Image: ams OSRAM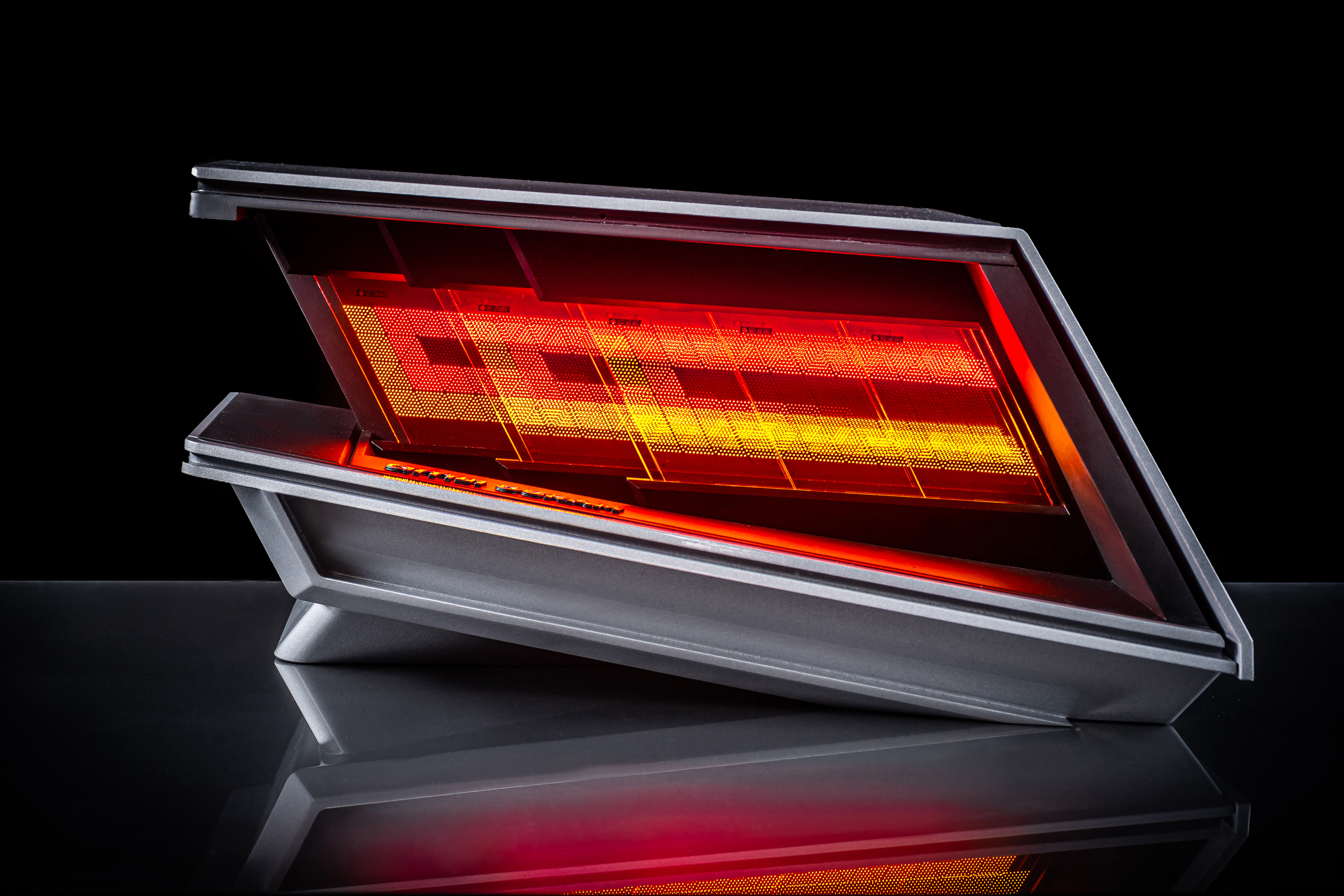 Demonstrator Image for ALIYOS™
Image: ams OSRAM
 
For further information
Media Relations
Eva Feuerlein
Tel.: +49 (151) 16255472
Eva.feuerlein@ams-osram.com
press@ams-osram.com
ams-osram.com
About ams OSRAM
The ams OSRAM Group (SIX: AMS) is a global leader in intelligent sensors and emitters. By adding intelligence to light and passion to innovation, we enrich people's lives.
With over 110 years of combined history, our core is defined by imagination, deep engineering expertise and the ability to provide global industrial capacity in sensor and light technologies. We create exciting innovations that enable our customers in the automotive, industrial, medical and consumer markets to maintain their competitive edge and drive innovation that meaningfully improves the quality of life in terms of health, safety and convenience, while reducing impact on the environment.

Our around 21,000 employees worldwide focus on innovation across sensing, illumination and visualization to make journeys safer, medical diagnosis more accurate and daily moments in communication a richer experience. Our work creates technology for breakthrough applications, which is reflected in over 15,000 patents granted and applied. Headquartered in Premstaetten/Graz (Austria) with a co-headquarters in Munich (Germany), the group achieved over EUR 4.8 billion revenues in 2022 and is listed as ams-OSRAM AG on the SIX Swiss Exchange (ISIN: AT0000A18XM4).
Find out more about us on https://ams-osram.com
ams is a registered trademark of ams-OSRAM AG. In addition, many of our products and services are registered or filed trademarks of ams OSRAM Group. All other company or product names mentioned herein may be trademarks or registered trademarks of their respective owners.
Join ams OSRAM social media channels: >Twitter >LinkedIn >Facebook >YouTube