Technology portfolio
Our Full Service Foundry provides a variety of production proven and industry standard process technologies.
Process roadmap
ams OSRAM is demonstrating its industry leadership in the area of analog and mixed signal wafer manufacturing with a broad range of specialty processes. The special process features and available optimized devices support highly efficient product designs and high performance.

Our analog mixed signal proven process technologies combined with highly accurate process characterization and modeling and ams OSRAMs' advanced foundry services are the best premise to meet the unique business requirements of our customers.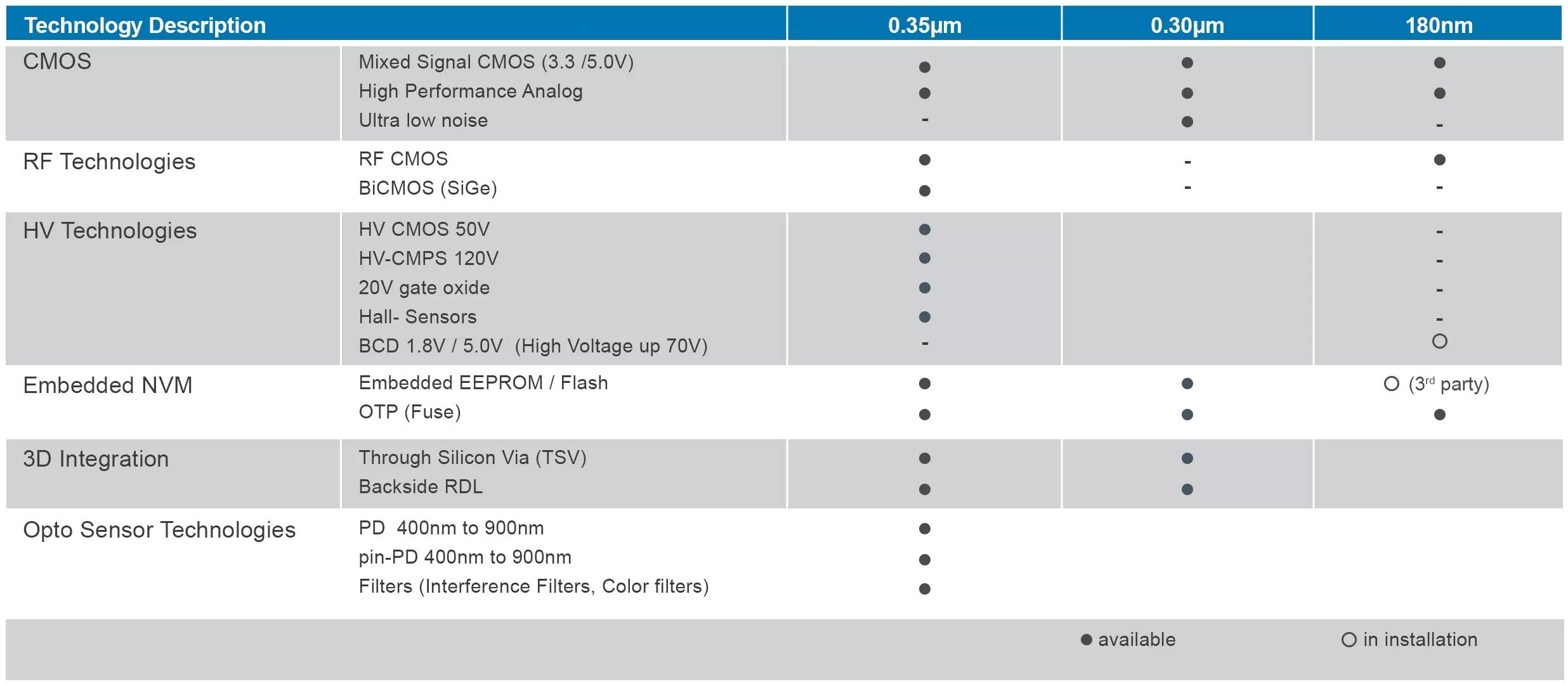 Base technologies
The core technologies of our Full Service Foundry consist of 0.18µm CMOS and BCD, 0.35µm digital and mixed signal CMOS, ultra-low noise CMOS, High-Voltage CMOS and SiGe-BICMOS processes. As all base processes are compatible with major semiconductor manufacturers, alternative sourcing can be accommodated at minimal effort.
0.18µm CMOS / BCD
The 180nm CMOS specialty analog, mixed-signal process has been transferred into ams OSRAM's 200mm wafer fab facility in Austria. The C18 specialty process is suitable for sensors and sensor interface devices in a wide variety of applications such as wearables, healthcare, home automation, smart cars and industry 4.0.
0.18µm CMOS process details (C18)

0.18µm BCD process details (BCD18)

0.35µm digital and mixed signal CMOS
ams OSRAM 0.35μm CMOS process family is fully compatible to the 0.35μm mixed signal base process licensed from TSMC. The high-density CMOS standard cell library optimized for synthesis and 3- and 4-layer routing guarantees highest gate densities. Peripheral cell libraries are available for 3.3V and 5V with high driving capabilities and excellent ESD performance. Qualified digital macro blocks (SPRAM, DPRAM, and diffusion programmable ROM) are available. A variety of high performance analog-to-digital and digital-to-analog converters can be provided for integration on the same ASIC.
0.35µm CMOS process details (C35)
0.35µm Opto-CMOS process details (C35O)

Additional process options for CMOS processes
CMOS-LVT; Embedded memories: NVM, RAM, ROM, OTP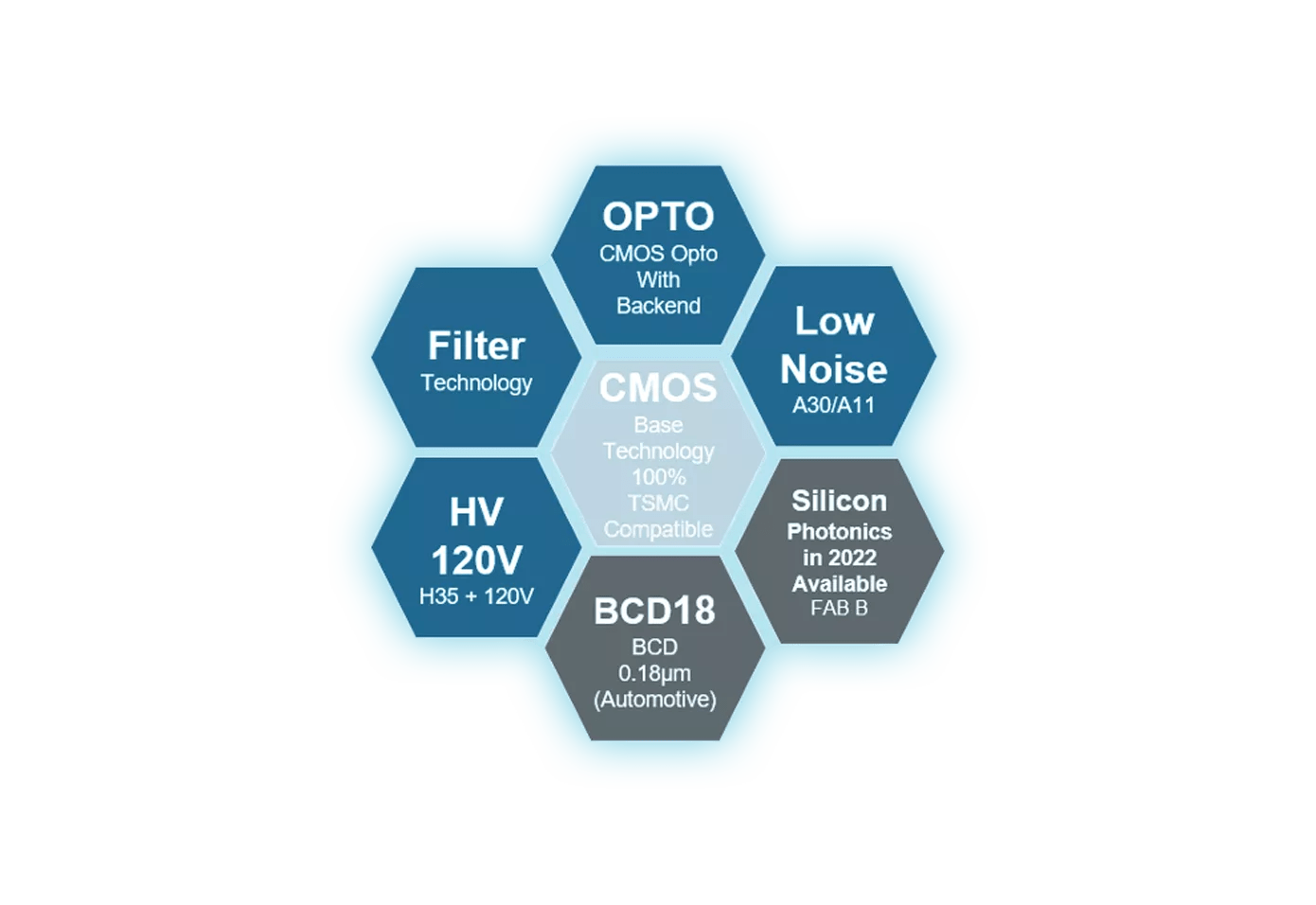 Ultra-low noise CMOS
ams OSRAMs´ High Performance Analog Low Noise CMOS process ("A30") provides superior noise performance and is realized as an optical shrink by a factor of 0.9 from ams OSRAM's advanced 0.35µm High-Voltage CMOS process family.

0.30µm High Performance Analog Ultra-Low Noise CMOS process

The A30 High Performance Analog Ultra-Low Noise CMOS process is based on ams OSRAM's advanced 0.35μm process family. The state of the art A30 process is manufactured in ams OSRAM's 200mm fabrication facility ensuring very low defect densities and high yields. It offers 3-4 metal layers and a set of active devices optimized for ultra-low noise applications and high performance analogue applications. The A30 process also includes a set of passive devices such as high resistive poly and high precision poly resistors, PIP capacitors as well as an improved MOS varactor with improved analogue performance. Optical shrink done in mask shop allows additional 20% area saving vs. 0.35µ CMOS process.
0.30µm High Performance Analog Low Noise CMOS (A30)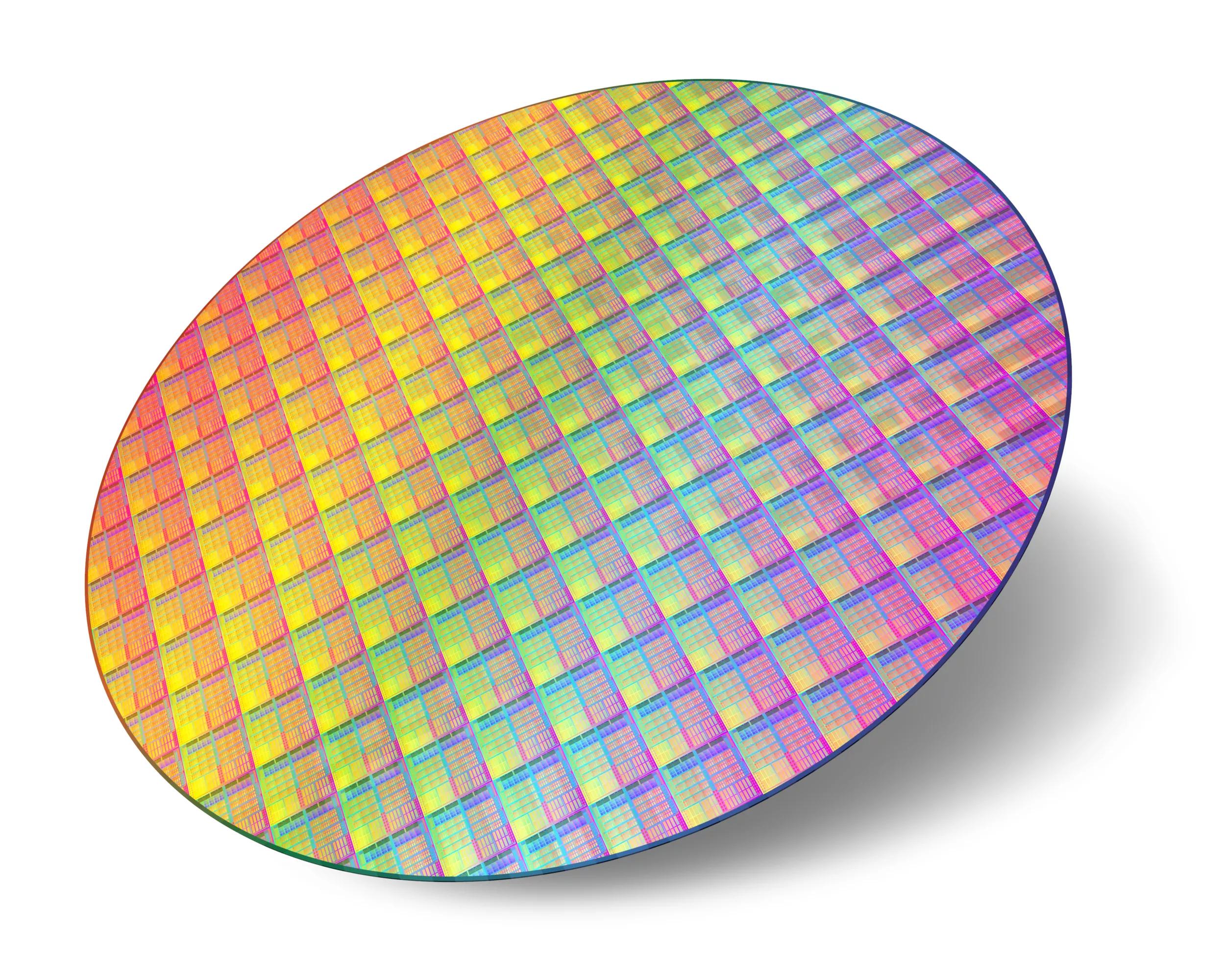 High voltage processes
Our high voltage process platform supporting 0.35µm processes is optimized for complex mixed signal circuits up to 120V operating conditions.
In addition to the standard CMOS transistors, a variety of high voltage transistors are available: HV-NMOS, -PMOS, -DMOS transistors, N-junction FETS, isolated NPN bipolar transistors, and isolated LV-NMOS transistors.
High voltage and standard devices can be easily combined into the same chip. Low power consumption and fast switching speed provide a wide range of applications in the automotive and industrial segments. Further applications are targeted towards high precision analog front-ends for sensors and transducers.
In combination with our proven mixed signal libraries, the new process family represents the ideal solution for high voltage designs.
0.35µm HV-CMOS

The ams OSRAM "H35" process is optimized for complex mixed-signal circuits up to 120V operating conditions
0.35µm High-Voltage CMOS (H35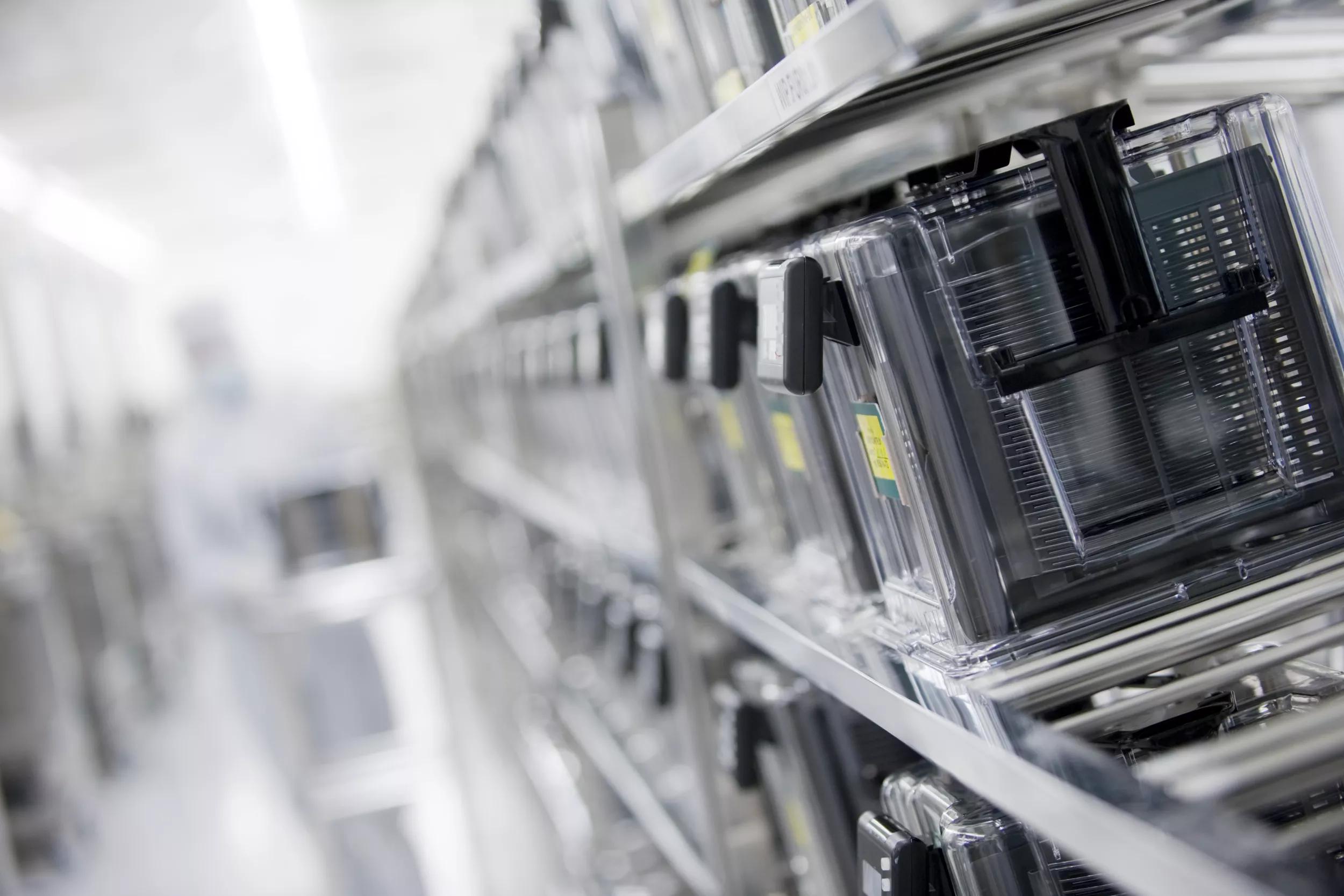 SiGe BiCMOS process
ams OSRAM's SiGe-BiCMOS processe is designed to support advanced RF design with highest performance and lowest process complexity.
High speed SiGe HBT transistors with lowest noise figures enable designs for operating frequencies up to 7GHz with current consumptions significantly lower than comparable designs based on conventional CMOS RF processes. These advanced processes offer high-speed bipolar-transistors with excellent analog performance, such as high Fmax and low noise (NF), complementary MOS transistors, very low-parasitic linear capacitors, linear resistors and spiral inductors. The careful characterization and modeling of all active, passive, and parasitic devices result in simulation models for different circuit simulators and guarantees the optimum use of these process.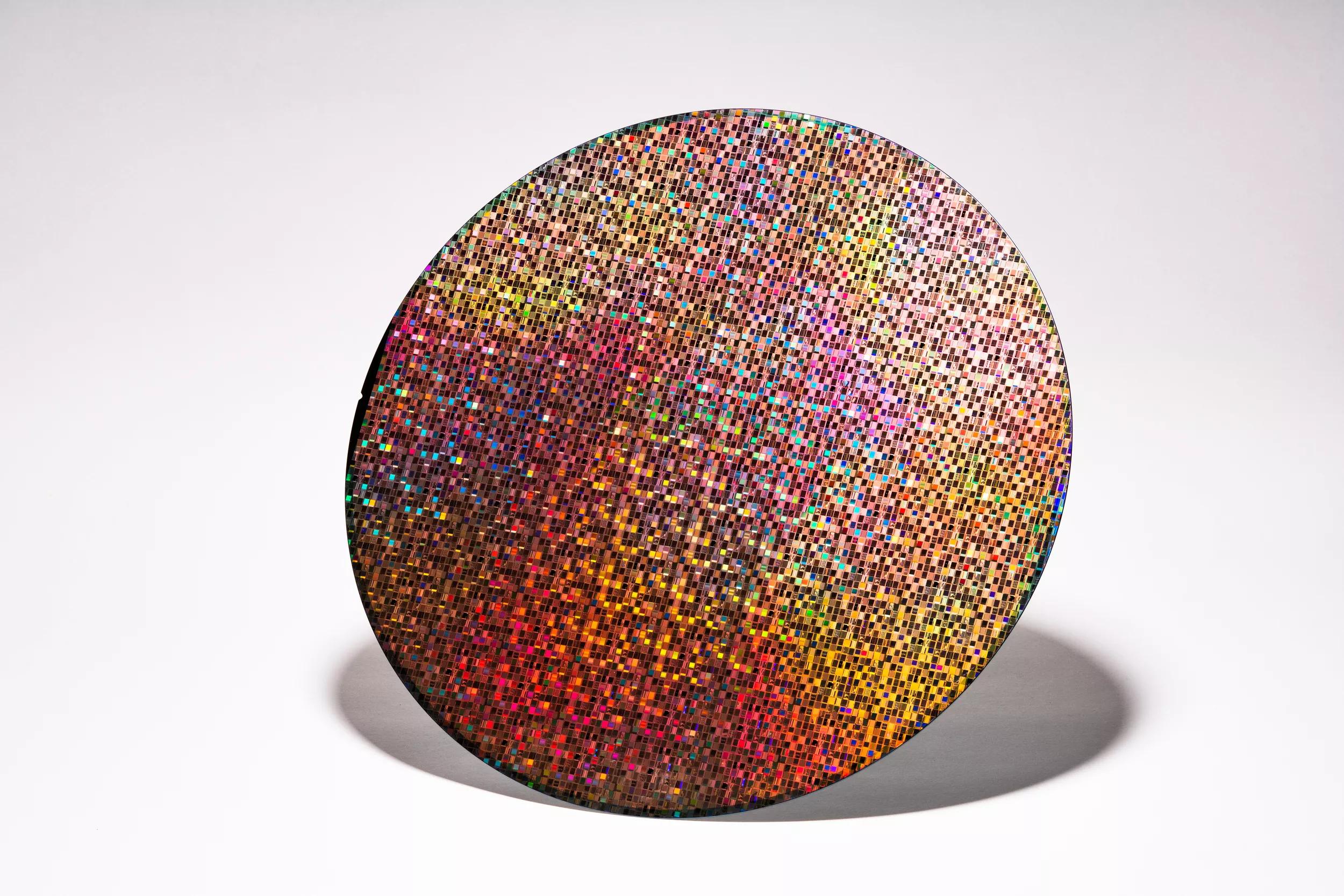 Embedded flash technology
With its 0.35µm embedded Flash technologies, ams OSRAM provides robust embedded non-volatile memory processes for SoC solutions (System on Chip) in automotive, industrial and consumer applications like RFID, Smart Cards, Sensor Interfaces, Microcontroller applications, Trimming applications and others.
Competitive, high-performance process technology
ams OSRAM offers a very competitive, high-performance process technology to its customers. The very reliable embedded EEPROM/Flash blocks offer low power operation and high data retention over an extended temperature range by using a proven PMOS-based NVM technology. The memory blocks are available as add-on process modules to the 0.35µm CMOS and High-Voltage CMOS processes and can also be configured as EEPROM blocks or Flash memories without any process changes.
Technology Details
0.35µm embedded EEPROM CMOS process (C35EE)
0.35µm embedded EEPROM High-Voltage CMOS process (H35EE)
Key features embedded flash
Based on the 0.35µm CMOS process and 0.35µm High-Voltage CMOS process, the embedded Flash technology offers the following features:

Very high reliability (data retention >20 years @ 125°C, endurance 100k write/read cycles)
High temperature capability up to 170°C (suitable for automotive applications)
Low power consumption
Full customizable Flash or EEPROM blocks
EEPROM memory blocks accessible like a static RAM
Full modularity with 0.35µm CMOS base process C35 enabling reuse of digital library and IP blocks