Replacement Products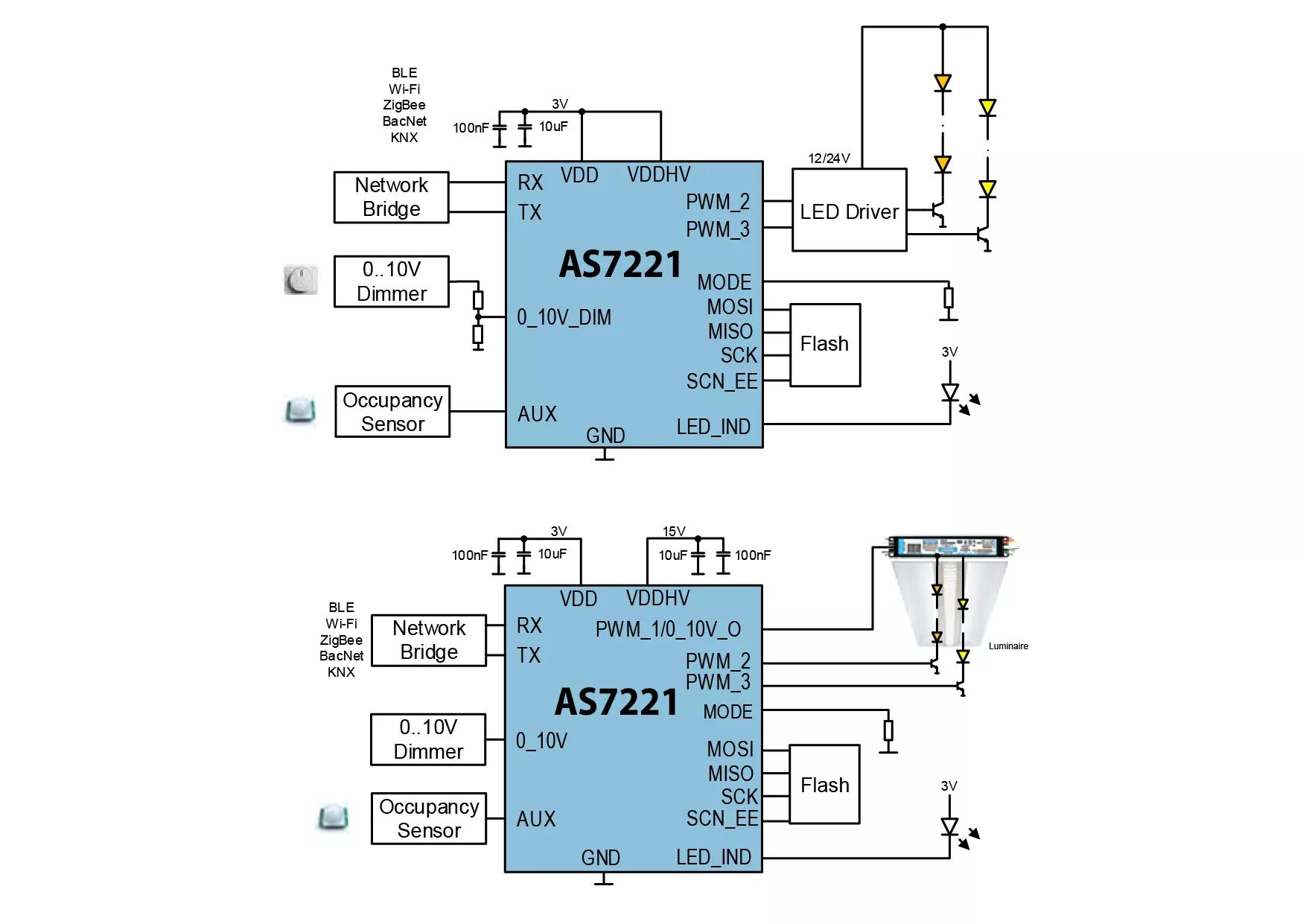 ams AS7221 CCT Tuning Smart Lighting Manager
Simplify tunable white lighting systems with the AS7221 sensor-integrated IoT smart lighting manager. The AS7221 will lower the manufactured cost of your tunable white lighting system. Closed loop calibrated tri-stimulus color sensing for direct CIE color point mapping and control enables lower precision components to produce a higher-quality tunable white luminaire or replacement lamp. Pre-calibrated to a typical 2 SDCM accuracy, this network enabled chip-scale solution uses a simple text-based smart lighting command set via the serial UART interface to deliver easy integration to standard network clients. Legacy controls are also supported with direct connection to 0-10V controls,. Control outputs include direct PWM management of digital LED drivers or analog 0-10V for standard dimmable drivers.
Features
Calibrated tristimulus XYZ CCT delivers closed loop CCT/daylighting directives to application microprocessor
I²C and serial UART interfaces with simple text or register-based commands to control and configure key light tuning supervisory functions
Calibrated-for life nano-optic silicon interference filters for XYZ, CCT, DUV and lux
Additional master I²C for add-on ambient light sensing
20-pin LGA 4.5mm x 4.7mm x 2.5mm, -40°C to +85°C
Benefits
Maximizes system flexibility and lowers overall manufactured costs while adding precision to tunable white luminaires and lamps
Easy integration with flexible interface options to support any standard application host microprocessor
Eliminates light-by-light factory calibration for most tunable white and daylighting luminaires
Built-in support for daylighting/daylight harvesting systems
Compact lighting-capable package with no added optics required
Parameters
Yes, supports high level directive interface
UART commands or I²C register-based parameters
Closed loop color/daylighting tuning
Ordering codes
Product Type
Description
Order No.
Availability
AS7225-BLGM

Status information

Not planned for new design

Ordering and shipping are still possible

Request product

AS7225-BLGT

Status information

Not planned for new design

Ordering and shipping are still possible

Request product
Product change notification (PCN)
Product selector
Find the right product.
More ambient light, color & spectral sensors
Industry's broadest portfolio of high-performance and high-sensitivity digital discrete and integrated module optical sensors including ambient light sensors, RGB and XYZ color sensors, and spectral sensors.